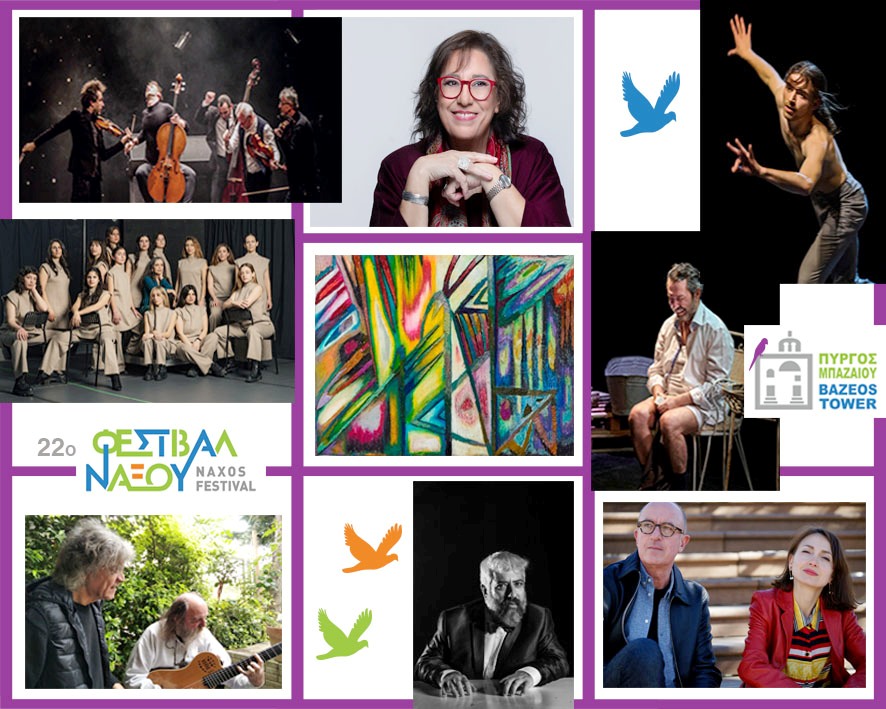 Staged consistently for the 22nd year in a row, the island's cultural summer celebration, the Naxos Festival, is presenting one more multilayered program this year, in and around the inland Bazeos Tower and other atmospheric venues.
TAPISSERIE | art exhibition-installation
26/6-02/10/2022| Bazeos Tower |Daily except Monday 10:00-17:00
The original visual arts exhibition Tapisserie [Tapestry], curated by Iris Kritikou and organized by Mario Vazaios, staged both inside the Bazeos Tower and in its surrounding outdoors of exceptional beauty. Twelve selected artists create fascinating, supple modernist tapestry landscapes, proposing new ways of weaving, with varied materials and ingenious handcrafting processes. Artists: Zoe Gaitanidou, Mary Galani-Criticou, Maria Grigoriou, Irene Gonou, Manolis Zacharioudakis, Nikos Koniaris, Maro Kornilaki, Maria Kotsou, Pandora Mouriki, Sofia Paschou, Ismini Samanidou, Ioanna Terlidou.
THE NEARNESS DUO
12/7 Tue. | 21.30 |Bazeos Tower|Ticket price 15€
Lynn Adib is a Syrian singer born in Damascus and Marc Buronfosse French musician who play double bass. The duo was born through the summer of 2020 during an improvised and last minute concert on the island of Paros, like a window that suddenly opened in the middle of the pandemic, crystallizing the desire to make music for an audience eager for sounds and vibrations.
This concert will take you on an initiatory journey from the Middle East, particularly Syria, to the West. From personal compositions sung in Arabic, and Syriac, to two covers of Joni Mitchell and Radiohead, and two jazz standards sung in Arabic, English and French.
CROSSINGS
26/07 Tue. | 21.30 |Bazeos Tower |Free admission
Savina Yannatou and the chόrεs female vocal ensemble led by Marina Satti join forces on a programme that combines tradition, contemporary musical creation and improvisation in an indivisible whole based on the human voice. This unexpected combination of musical materials produces an original sonic world that hovers at the border between modernity and tradition.
Savina Yannatou voice. Female vocal ensemble chórεs: Marina Emmanouilidou, Natalia Katsimani, Alkmini Basakarou, Ino Pikioni, Natalia Routsolia, Marina Skoura, Nancy Klabatsa ancient lyre, Maria Delaporta quanun, Irini Zoutsou santur, Sofia Katsiouri violoncello.
Curator: Kornilios Selamsis. Chórεs ensemble leader: Marina Satti. Chórεs ensemble musical director and voice coach: Simela Emmanouilidou.
A production of the Greek National Opera Alternative Stage.
Co-produced by: South Aegean Region – Naxos Festival.
VOLOSI in concert
02/08 Tue. | 21:30 | Bazeos Tower|Ticket price 20€
Vołosi is a music group formed by highlanders of the Silesian Beskid mountains and classically-trained musicians. The string quintet, whose great strength lies in improvisation, joyously and energetically combines genres of music that would seem too distinct to be fused. In their interpretation, the music of the Carpathians is modern and full of life, but does not break its connection with tradition. The musicians are: Jan Kaczmarzyk viola, Krzysztof Lasoń violin, Robert Waszut doublebass, Stanisław Lasoń cello, Zbigniew Michałek violin.
ΚΑΤΑ ΘΑΛΑΣΣΑΝ / Contemporary tradition
07/08 Sun. | 21:30 |Bazeos Tower|Ticket price 15€
A particularly atmospheric concert based on Aegean musical characteristics and cadences, within the context of contemporary jazz trends. It is an improvisational composition which falls within the international movement of 'Intuitive Music'. It is not only that the original compositions are characterized by the austerity of the Cycladic idiom, but also the way of approaching and interpreting, searching for a sound which echoes the clarity of the light of the Cycladic islands.
Musicians: Giannis Zeugolis, violin – Vasilis Rakopoulos, classical & midi gt – Tsico, percussion.
O TEMPS…
13/8 Sat. |20.00| Temple of Dionysus in Yria | Free Admission
The performance is inspired by the aesthetics of the dance theater and the works of Pina Bausch, translating Gabriel Gaudray-Donnio's own interpretation of what could be the essence of his inspiration for dancing. It is composed of scenes that follow one another and was partly created at the "Chapelle Saint Antoine" a place that had a great influence on the creation.
Co-produced by: Ephorate of Antiquities of Cyclades-Naxos Festival-Chapelle Saint Antoine.
IAKOVOS KAMBANELLIS – Literary Year 2022
On the occasion of 2022 being celebrated by the Greek Ministry of Culture and Sport as Literary Year of Iakovos Kambanellis, on the island where the author was born, the Municipality of Naxos and Small Cyclades in partnership with the Naxos Festival are organizing the following:
HE, THE OTHER ONE, AND HIS PANTS
11/08 Thu. |21:30|Bazeos Tower|Free admission
Theatrical play by Iakovos Kambanellis. Acting: Christos Chatzipanagiotis. Director: Manos Karatzogiannis.
Co-produced by: Naxos Municipality – Naxos Festival
THE SECRET LIFE OF WALTER MITTY AND THE PANEGYRIC
16/08 Tue. |21:30 |Bazeos Tower | Free admission
Theatrical play by Iakovos Kambanellis. Acting: Dimitris Fragioglou. Director: Katerina Polychronopoulou.
Co-produced by: Naxos Municipality – Naxos Festival
HEAR MY VOICE AND COME…
19/8 Fr. | 21.00 | Amphitheatre I.Psaras in Filoti village|Free Admission
Maria Farantouri sings songs on lyrics by Iakovos Kambanellis, verses put to music by great Greek composers such as Mikis Theodorakis, Manos Hadjidakis and Stavros Xarchakos. Among other significant works, Farantouri will be performing Mikos Theodorakis's iconic Mauthausen. She is joined on stage by the remarkable singer Vasilis Gisdakis, and the two are accompanied by a six-member musical ensemble: George Anastasopoulos-piano; Kostas Zaridakis-bouzouki/electric guitar; Giannis Tolios-mandolin; Areti Kokkinou-guitar; Teo Lazarou-bass; George Katsikas-percussion.
Co-produced by: Naxos Municipality – Naxos Festival
Naxos Festival Organizer: "AEON" Non-Profit Cultural Organization
Artistic Director: Stelios Krasanakis
Production Manager: Mario Vazaios
Communication: Katerina Zourari
E-mail:naxosculture@gmail.com
Venues:
-Bazeos Tower: 12th km City of Naxos-Agiasos Road | T. +22850 31402
-Temple of Dionysus in Yria
-Amphitheatre I.Psaras in Filoti village
Info: bazeostower.com | naxosfestival.gr