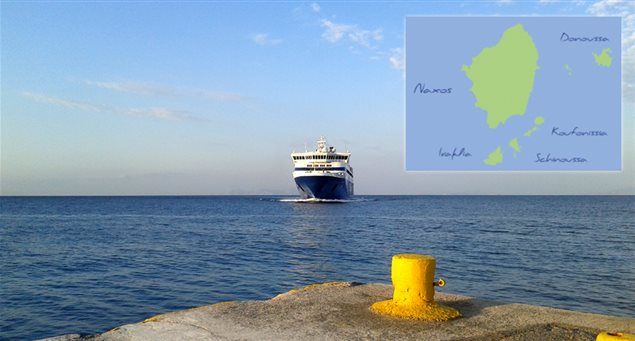 Donoussa is only accessible by sea.
Getting to Donoussa from Naxos
* [Please note schedules/timetables are subject to change. Please contact your travel agent and/or the airline/sea transport line for the latest schedule information.]

Donoussa, the farthest and most remote of the islands of the Small Cyclades from Naxos, is accessible via the local ferry, the Express Skopelitis, 3x per week with a travel time of about 4 hours (from Naxos).
The ferry line, Blue Star Ferries (www.bluestarferries.gr), originating in Piraeus stops at Donoussa via Naxos 3x per week in the off-peak season and 4x per week in the peak season and has a travel time of about 1 hour and 10 minutes (from Naxos).
Naxos to Donoussa:
Year round
Local ferry – Express Skopelitis (approximately 4 hours) 3x per week, except Sundays
Ferry line –Blue Star Ferries (www.bluestarferries.gr)- 3x per week (approximately 1 hour 10 minutes)
Information on ferry connections in between the islands of the Small Cyclades:
From Koufonissia to Donoussa:
• Daily local ferry, Express Skopelitis (approximately 1 hour and 10 minutes) daily, except Sundays