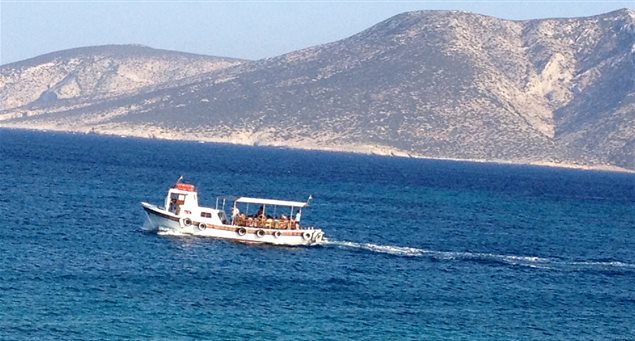 Unique to the Greek isles are the network of local ferry and passenger boats, sea "buses" or colorful and traditional fishing (caique) motorboats known as kaiki, lantzia or water/sea taxis/buses.  Some larger than others, they offer the opportunity for guests to visit remote and spectacular beaches.
Of course, it is best to check with the local travel agent or concierge/reception to confirm departure/pickup dates, times and weather conditions. And note, that timetables and local itineraries are always subject to what the weather permits.
Ranging in capacity from 50 to 150 passengers, Koufonissia's 4 sea taxis — Marigo, Chrysopygi, Prasinos Roussetos, Taxiarchis — offer a wide selection of daily cruise options that are highly recommended to experience all the island has to offer. The sea taxis are an important part of the island's limited public transport system being that — except for the locals' own vehicles – Koufonissia does not encourage noisy cars, mopeds and public buses.
For starters, those who do not wish to walk or bike ride to the tantalizingly turquoise and white sandy beaches, the sea taxis make the rounds of the popular beaches: Finikas, Fanos, Platia Pounta (Italida) and Pori every hour on the hour; departing from the port from10am to 8pm. Transport to the beaches of Kato Koufonissi, also leaving from the port, are available at 10am, 12 pm, 1pm, 3pm and 5pm.
Additionally there are day cruises to the island of Keros and the islet Glaronissi and often, based on request, trips may be arranged to Schinoussa (1 hour duration), Iraklia (1hr 30 minutes duration, Amorgos(2-3 hours) and Naxos (to the small Volakas port on the southeastern side of Naxos.)
Popular with visitors is the ability to reserve a sea taxi for use by a private group or individuals wishing to have exclusive service for swimming, touring the island, or spending a special evening under a full moon, for example.