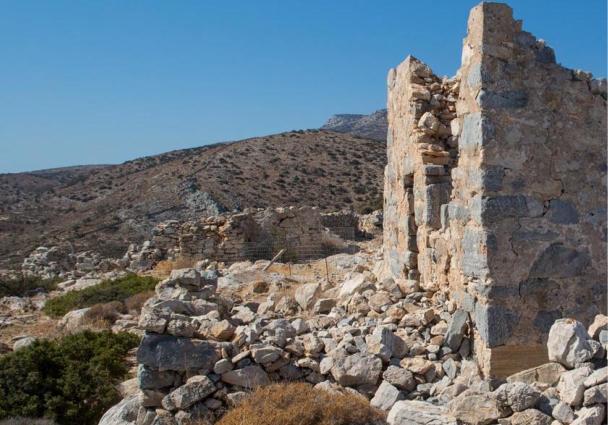 Iraklia, like the other Small Cyclades islands, was already inhabited in the prehistoric age and has kept its name since antiquity.
Remains of two settlements and a cemetery dating  to the 3rd millennium have been found at the locations of Kampos Agiou Athanassiou and Agios Mamas, while sanctuaries of the goddess Tyche (Fortune) and Lofitis Zeus have been identified in the Kampos area.
Tools made of obsidian –a volcanic rock material originating in Milos, in the western Cyclades- and found in various parts of Iraklia testify to the island's participation in the region's commercial activity during the Protocycladic period (3rd millennium).
Although the ruins of the fort on Kastro hill have not been precisely dated, they include traces of habitation during Hellenistic and Roman times.
During Ottoman times, Iraklia's narrow and inaccessible coves became ideal hideouts for pirates, whose threat largely determined the everyday life and habits of the inhabitants.
In the 16th century, Iraklia came under the ownership and administration of the Monastery of Chozoviotissa, in the nearby island of Amorgos.
After Greek independence in the 1820's, Amorgiots signed 10-year contracts with the monastery allowing them to settle on Iraklia, cultivate the land and keep 50% of the produce.
This regime survived well into the 20th century, when the tenants were given permanent ownership of the land, leaving a small part to the monastery for the needs of the monks.
A clandestine radio was operated on Iraklia during the Axis occupation of World War II, transmitting valuable messages about German naval activity to the British headquarters in Cairo.