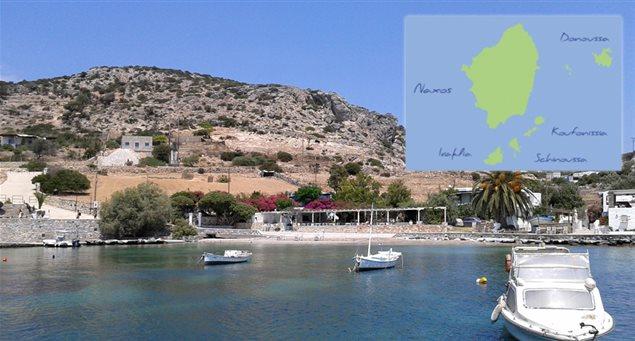 Access to Schinoussa from Naxos:
[Please note: schedules/timetables are subject to change. Please contact your travel agent and/or the airline/sea transport line for the latest schedule information.]
[Please note: Peak season usually begins from the Greek Orthodox Easter holiday, late Spring and continues to early Fall – mid October]
Also keep in mind that private companies on Naxos provide additional access/tours to these and other islands of the Cyclades

Next stop on the local ferry lines from Naxos (after Iraklia) is Schinoussa.  The travel time with the local Express Skopelitis ferry from Naxos, available 6x a week, except Sundays, is about 1 hr and 50 minutes.
The ferry line Blue Star Ferries (www.bluestarferries.gr) originating in Piraeus also makes the stop (after Iraklia) 3x per week, year-round, with a travel time of about 1 hour and 20 minutes (from Naxos.)
Naxos to Schinoussa
Year round

• Daily local ferry – Express Skopelitis (approximately 1hr 50 min.), except Sundays
• Ferry line – Blue Star Ferries (www.bluestarferries.gr) – 3x per week (approximately 1 hr and 15 min)
Also: From Iraklia to Schinoussa

• Daily local ferry -Express Skopelitis – (approximately 10 minutes.) except Sundays
• Ferry line – Blue Star Ferries – 3x per week (approximately 5 minutes)