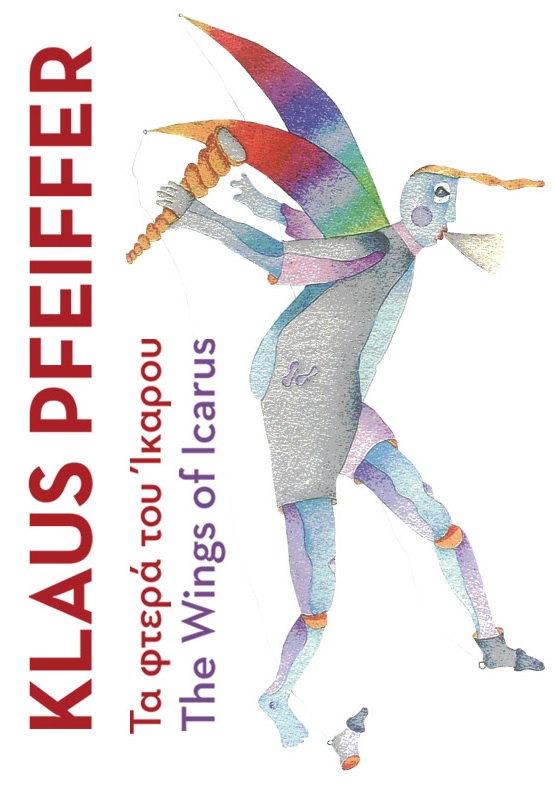 The exhibition "The Wings of Icarus" is a tribute to the artist Klaus Pfeiffer (1938-2022), who passed away last year, by bequeathing his work to the Naxos Festival to be preserved as a cultural asset of the island. The output of the avant-garde artist brings together classical Greek mythology, socio-critical debate and motifs of classical art history, transferring it into a colorful, contemporary composition. Klaus Pfeiffer was born and educated in Germany. He and his wife Marlene travelled to Greece for the first time in 1965. Every year they came back, but continued to spend the winter in Germany until 1974, when they decided to move to Naxos permanently. They finally became residents of Naxos in 1980 and the island eventually turned into the artist's workplace and source of inspiration. Klaus Pfeiffer was strongly influenced by the Fluxus movement of the 1960s in Germany and now incorporated this into his work by fruitfully mixing his Northern European origins with local elements. This meant not only Greek mythology as an immediate theme, but also the examination of socially relevant events in his environment, which included in particular the issue of nature conservation on the island. The media he chose to use are also related to these influences, ranging from classical canvas, to Naxotic marble, all the way to plastic waste, collected from the river of the Potamia Valley. His wide-ranging oeuvre encompasses paintings, drawings, watercolors, lithographs, woodcuts, etchings, silkscreens, book illustrations, videos, installations, and performances. In his major works Pfeiffer, fascinated by the Greek myth of Daidalos and his son Icarus, takes up the classical motif of the pair flying over Greek islands, and explores the fall of Icarus, whose wings melted from flying too close to the sun. Pfeiffer provides his sculptures of Icarus – and also other mythological figures such as the Minotaur – with rainbow colored, wide-span wings. The colorful canvas combined with the artist's claim "Don't kill the rainbow!" lets the fragility of the wings become unmistakable. And even if Icarus according to the myth ultimately crushes into the sea, he continues to live in Pfeiffer's multifaceted depictions. And so does the artist, whose fascinating life and work this exhibition ought to celebrate.
Curators:
Britta Breuers – Mario Vazaios
Organization: AEON Cultural Organization – Naxos Festival 2022
Venue: Bazeos Tower, situated on the 12th Km of the main road linking the capital city of Naxos (Chora), with the seacoast of Agiassos.
Contacts:
Tel. +30 22850 31402
Duration: June 4 – Oct 8, 2023
Open: Daily except Mondays, 10:00-17:00
www.bazeostower.com – www.naxosfestival.gr
Special thanks to "GreenFox" Landscape Services for their support in digitizing the exhibition works