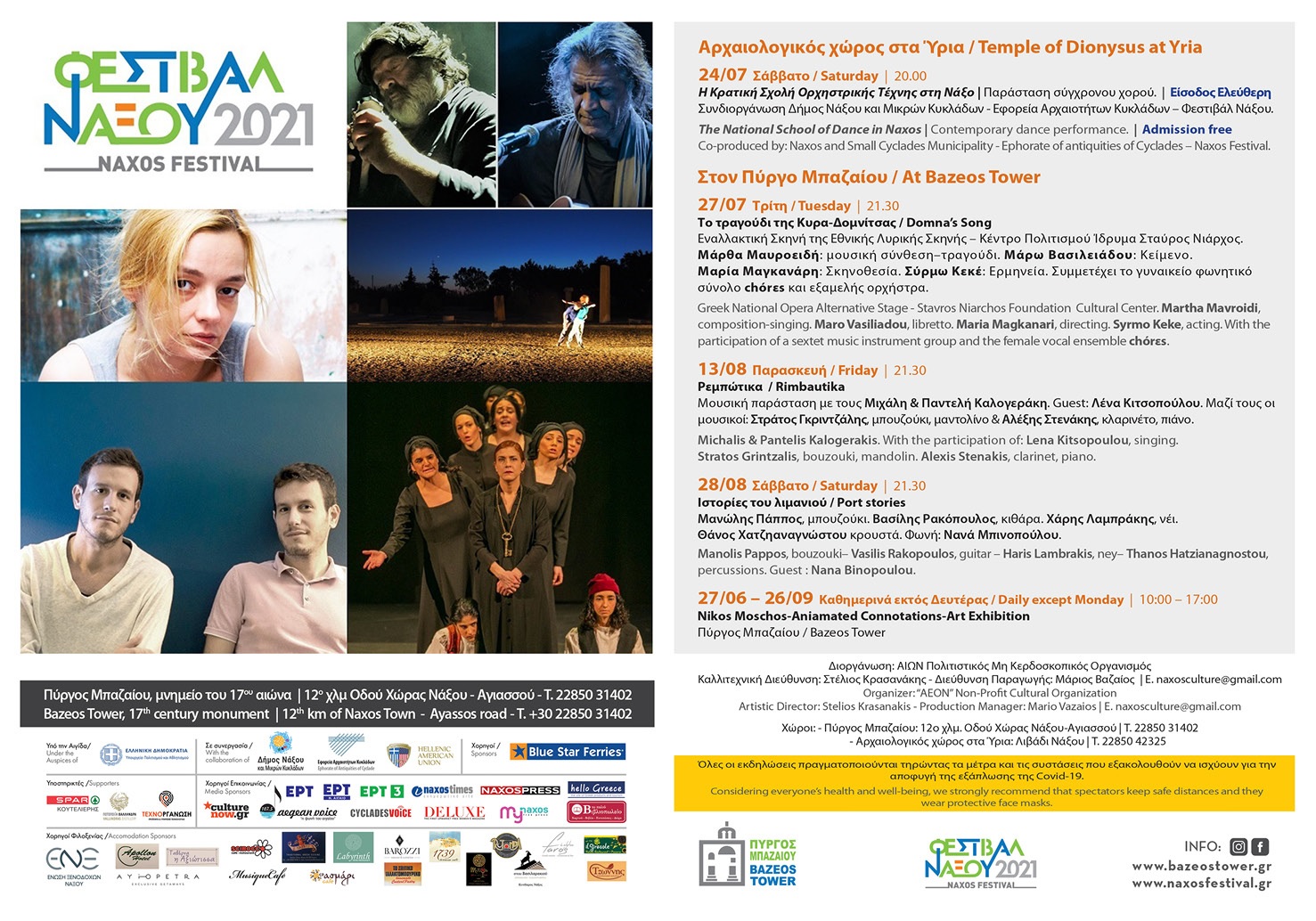 This year, as the Naxos Festival enters its third decade of existence, it summons up all its familiar elements, original commissions, artistic integrity, organizational experience, and open symbiotic relationship with the local community. It draws up a rich, multi-faceted cultural program, poised to offer entertainment and education to a public of all ages, as well as to revitalize the local economy and artistic community.
Temple of Dionysus at Yria
24/07 Saturday| 20:00
The National School of Dance in Naxos
Contemporary dance performance. Admission free
Co-produced by: Naxos and Small Cyclades Municipality – Ephorate of antiquities of Cyclades – Naxos Festival.
At Bazeos Tower
27/07 Tuesday|21:30| Domna's Song
Greek National Opera Alternative Stage – Stavros Niarchos Foundation Cultural Center. Martha Mavroidi, composition-singing. Maro Vasiliadou, libretto. Maria Magkanari, directing. Syrmo Keke, acting. With the participation of a sextet music instrument group and the female vocal ensemble chórεs. Entrance 20€
13.08.2021 Friday | 21:30
"Rimbautika" Michalis & Pantelis Kalogerakis
The Kalogerakis brothers present the stormy relationship of the poet Arthur Rimbaud with Paul Verlaine through the exchanged love letters while performing "rebetika" songs. The musical narration attempts to highlight the invisible threads that link Rimbaud's "rebetiko" lifestyle to the intense poetic world of rebetika songs by giving the title "Rebetiko".
With the participation of Lena Kitsopoulou, singing.
Stratos Grintzalis, bouzouki, mandolin. Alexis Stenakis, clarinet, piano.
28.08.2021 Saturday | 21:30
"Port Stories"
Manolis Pappos, bouzouki– Vasilis Rakopoulos, guitar – Haris Lambrakis, ney– Thanos Hatzianagnostou, percussions.
Guest : Nana Binopoulou
A contemporary look at the roots of the Rebetiko tradition and its relation to other musical genres such as the Blues and Fado. An approach combining open ended improvisation and melodic development as expressed within contemporary jazz trends.
Four composers, skilled musicians from different musical backgrounds and a particular love for world music traditions, take us on a journey, with their improvisations and compositions round the Ports of the World.
Rebetika, Blues, Fado, Flamenco and others, all speak of poverty, pain and injustice as expressed in the lyrics and their characteristic flattened notes.
And Music like a miraculous Goddess comforts with a magical and mysterious power, raising the spirits of both the artist and the audience.
27/06 – 26/09
Nikos Moschos-Aniamated Connotations–Art Exhibition
Paintings and new sculptures of the artist are developed inside the tower in lively dialogue with the authentic architecture of the space.
Bazeos Tower
Daily except Monday: 10:00 – 17:00
Venues:
Bazeos Tower, 12th klm City of Naxos-Agiassos road
T. +30 22850 31402
Organizer: "AEON" Non-Profit Cultural Organization
Artistic Director: Stelios Krasanakis – Production Manager: Mario Vazaios
bazeostower.gr | naxosfestival.gr
Considering everyone's health and well-being, we strongly recommend that spectators keep safe distances. Face masks are mandatory.