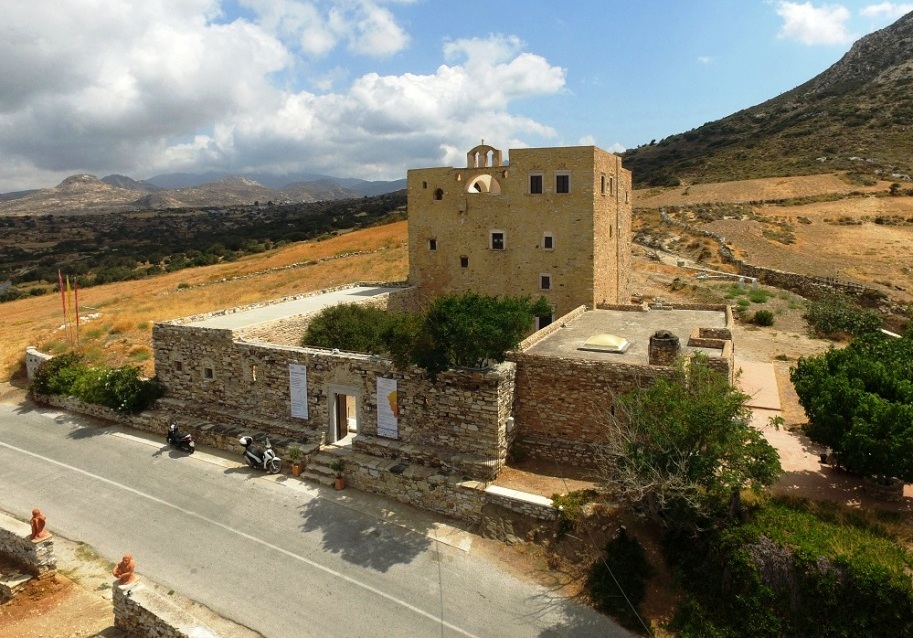 27.06 – 26.09.2021
Bazeos Tower – Naxos
Opening: Saturday, 26 June 2021, 11:00 – 15:00
Eighteen paintings by Nikos Moschos, both new and past, from Private Collections and the Zoumboulakis Galleries, together with two newly-created works of sculpture, are on display between June 27 and September 26, 2021 at Bazeos Tower in Naxos. About the exhibition, entitled "Animated Connotations", art historian Francesco Piazza writes: "If modern painting is marked by a return to representation at the expense of both abstract and conceptual art, we owe it to artists like Nikos Moschos, who shapes his notion of art through a new visual idiom that is unpredictable and filled with dramatic and mature symbolism.
The painting of Moschos pounces on the senses like a punch in the gut or a flash in the eye. It is mesmerizing, anaesthetizing; it stirs up memory and all the senses. Each of his works contains the intention to describe forms and figures, starting with their cognitive process and their ability to create new worlds through global stereotypes—the reality from which we all originate and which we all believe to know.
The modular illustrative narrative countervails the immobility of the painting, automatically prompting the human perception to set the images observed in motion, giving rise to thoughts and feelings, while also infiltrating global archetypes through one's own personal language.
The exhibition is an integral part of the program of the 21st Naxos Festival, which has been staged every summer at and around the Bazaios Tower, a listed 17th-century monument in the inland of Naxos. The Festival is carried out under the auspices and with the support of the Hellenic Ministry of Culture and Sports.
Curator: Mario Vazaios
Organization: AEON Cultural Organization – Naxos Festival 2021
Venue: Bazeos Tower, situated on the 12th Km of the main road linking the capital city of Naxos (Chora), with the seacoast of Agiassos.
Tel. +30 22850 31402
Duration: 27/6 – 26/9/2021
Open: Daily except Mondays, 10:00-17:00
Ε-mail: naxosculture@gmail.com