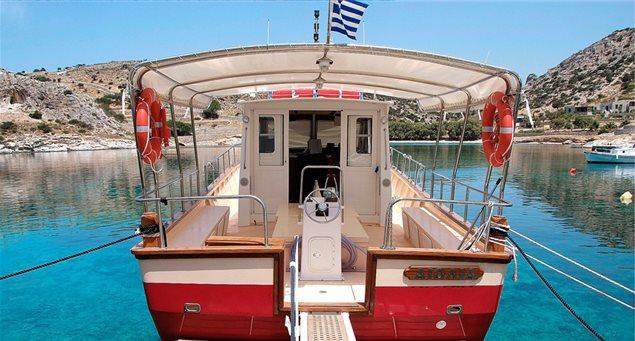 For such a small island, Schinoussa has quite a nice selection of cruises to choose from that are sure to be a treat. They are all expedited by Aeolia, a motorboat sea bus that gets its name from Aeolus, the three-mythical-characters-in-one that was (were) ruler of the wind.
The Aeolia sea taxi on Schinoussa, with a capacity of approximately 50 passengers, keeps it fun with a different excursion each day of the week during the peak season (end of June-beginning of September)*.
They include:
• A trip around Schinoussa with swim stops at places hard-to-reach-by foot such as Sifneiko, Gerolimionas and the islet of Fidou. Departure time from the port Merssini is at 11 am with an approximate return time of 2-2:30pm.
•Trip to Iraklia with swim stops at Alimia, site of the submerged WW2 warplane wreckage and ideal for snorkelers.
• Koufonissia. In approximately 40 minutes, Aeolia reaches the port of Ano Koufonissi dropping passengers off for a free day to explore the beaches and town. Boat departs Merssini at 11 am and returns to pick up passengers from Koufonissi at 5 p.m.
All the above trips include coffee and juice in the ticket price.
• Keros and Kato (Lower) Koufonissi. This all-day cruise starts at 11 am with destination Keros, one of the Cyclades' most intriguing and historical islands. Site of where many of the Cycladic idol figurines were found, even today, archaeologists can be found on the island from time to time as they continue their research. For that reason, visitors are not allowed on the island. However, Aeolia will get you to a beach [Glyfada] where you can enjoy the waters and Cycladic energy of this most special island. A break for a light lunch with food from Schinoussa's farms and then Aeolia is off to Kato Koufonissi where you can grab a bite at the local taverna of the tiny port or swim at the nearby picturesque beach "Laki".
• Aeolia is also available for private cruises upon request, and operates as a sea taxi to the ports of nearby islands.
For more info please contact Captain Manolis Koveos +30 697 96 18 233 or Elenie (for English speakers) +30 693 87 17 320, or visit www.aeolia.gr