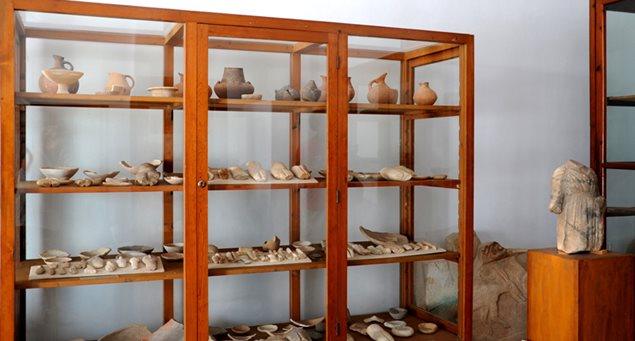 A modest establishment in Apiranthos' main street hosts the most important archaeological finds of the area.
The Apiranthos Archaeological Museum on Naxos was founded by a local initiative in 1960, initially hosting the collection of Michalis Bogdanis.
It was later enriched with the discoveries of excavations in the area and the finds of local farmers while they tilled their land.
The exhibits include oil lamps and small receptacles of the Proto-Cycladic period (3000-2700 BC), Cycladicidols and vessels, sculptures, parts of marble architectural structures, tools, weapons etc.
The most important exhibits, due to their rarity, are considered the 10 stone slabs with rock drawings of scenes of everyday life, found at Korfi t'Aroniou –a hill overlooking the eastern coast of Naxos, where archaeologists believe that there was a small sanctuary and a watch tower.
| | | | |
| --- | --- | --- | --- |
|   | Daily except Mondays | | 08:00 – 15:00 |
|   | Apiranthos | | 22850 61725 |
|   | 22850 61725 | | |
| | |
| --- | --- |
| Parking | Cars may be parked at the entrance to the village. |
| Public transport info | A bus service runs from Chora –more frequently during summer. |
| Accessibility for wheelchairs | Accessible for wheelchairs. |