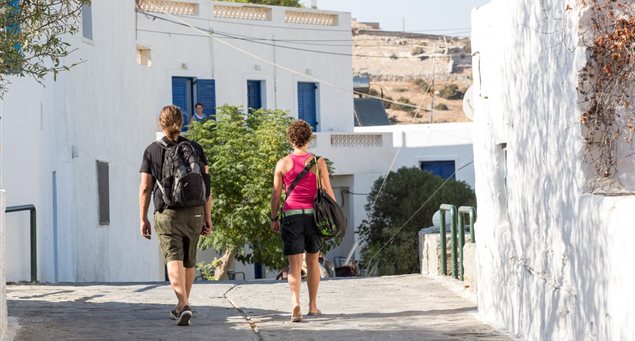 Panagia or Chora, is the largest of the two settlements on the island, situated roughly in its center. It is about 1.2km from the port of Merssini and accounts for the majority of Schinoussa's around 250 permanent residents.
The village, which owes its name to the Church of Panagia (Virgin Mary) Akathis, grew on a hilltop with sea views during times when the fear of pirate raids was still real, so that that the inhabitants would have early warnings.
Panagia is relatively densely built, along both sides of a cement-paved road. Architectural features are mixed, with a fair number of old, Cycladic-style houses, but also new constructions that present no interest.
There are several shops along the main street, including cafes and tavernas with good food, while the settlement also has several accommodation facilities.
Two dirt tracks start at the eastern end of the village, one leading north to the beaches of Almyros, Liolios and Aligaria, and the other to Livadi.
All routes are connected via a circular road so as to prevent the entry of vehicles into the settlement.
| | |
| --- | --- |
| Directions for access | Panagia is accessed via asphalted road from the port, Merssini. |