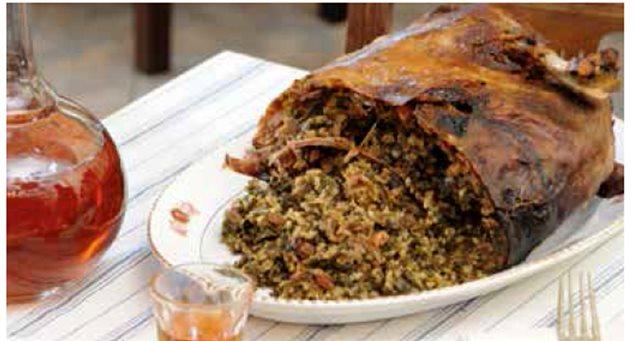 Ingredients
One rifi (small goat kid),
koutsounades (poppies)
chard
fennel
dill
parsley
rice
raisins
onions
spring onions
oil
salt
pepper
Wash all the vegetables and herbs, chop them finely, blanch them and place them in a colander to drain overnight.
Saute the dried and spring onions in plenty of oil and then add the vegetables, herbs, raisins, rice, salt and pepper.
Stuff the belly of the kid with the filling (after having chopped off the head and hooves and having removed the entrails).
Sew the the belly with a packing needle, using a strong thread.
Put the rifi in a big stainless steel bowl or a bronze baking tray and put it in the oven.
| | |
| --- | --- |
| Source | 2009 calendar of Cultural and Sports Club "TA FANARIA" |