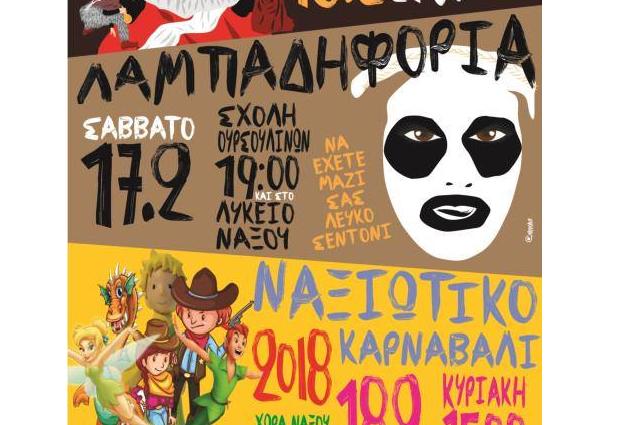 Naxos organizes one of the biggest carnival events in Greece, a program of events that encompasses and highlights the rich and unique cultural heritage of the island! From the scenic villages to the Venetian Castle, from the Anthesteria (flower festival) to modern Naxos with the colorful "Kordelatoi" and the sounds of "Koudounatoi" (traditional carnival costumes), the visitors and the residents of the islands will have the opportunity to enjoy a vast events program, which includes traditional events in the villages, revival of Dionysian customs, the glorious Torchlight Parade, the Grande Parade of the Carnival as well as new surprises.
Pithoigia | Naxos Chora (Beach) | Friday the 16th of February, 21:00
The 3-day carnival festivities open on Friday night, just a few meters from the Temple of Apollo. The festivity is called "Pithoigia" and is essentially the first day of the ancient Anthesteria festivity, during which the earthenware jars of the new wine were opened. They used to bring the first wine to the Temple of Dionysus and make libations to the God outside the closed shrine dedicated to him, wishing for the new production. Afterwards, they tasted the wine themselves; they danced and sang thanking Dionysus. Satyrs and Maenads will participate in the staging of "Pithoigia".
Torchlight Parades| Castle at Naxos Chora – Beach | Saturday the 17th of February, 19:00
Impressive Torchlight bearers with painted faces and dressed in white sheets contribute to the unique and special style of the carnival events in Naxos. The "baptism of fire" will take place this year at the Ursuline School and at the Lyceum of Naxos, where the preparation and the dressing of the Torchlight bearers are done.  Accompanied by the sound of kettledrums and holding lighted torches, the bearers will head to the beach, thus creating an exquisite parade and atmosphere that you can find only in Naxos.
Bring your own white sheet and join us in the torchlight parades by showing up at the meeting points at 19:00.
Carnival | Naxos Chora – Beach| Sunday the 18th of February, 15:00
The events of the 3-day carnival festivities culminate with the Grande Parade on Sunday noon. Groups of carnival-goers will parade in new and impressive floats, bringing joy and happiness to the visitors and spectators of the parade. Should you wish to participate, you can contact us at 6984037799.