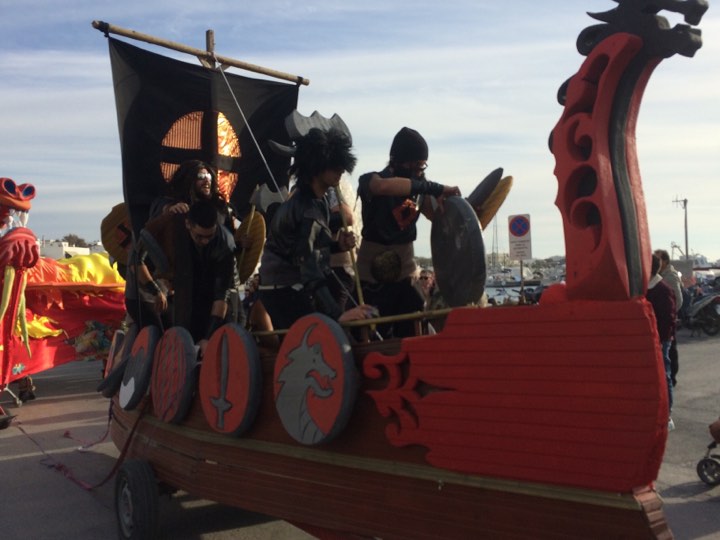 Carnival is celebrated in a unique form on Naxos, as the customs involved are an evolution of ancient Dionysian fetes, taking place in the same time of year as the ancient Anthesteria.
Hearty feasts, with violins, bag-pipe instruments (tsabouna) and drums (doubakia) are an unfailing annual occurrence in the squares and courtyards of churches in many villages of the island, on the last Sunday of the Carnival season. The feast continues into Clean Monday.
In other villages, such as Danakos, Apiranthos and Koronos, young men wearing hoods and bells (koudounati) and holding a phallic symbol (soba) create deafening noise in the alleys of the village –a custom signifying the arrival of spring and meant to drive the evil spirits away.
The procession ends at the village square, where the koudounati join the other dressed-up characters and begin the dancing and song that lasts well into the night.
The similar customs of kordelati and foustanelati take place in the villages of Galini and Eggares on Clean Monday.
Young men wearing colored ribbons and the national Greek costume of foustanela form groups (bairakia) and, led by the standard-bearer (bairaktaris), who holds a thick cane with a colored cloth, head for the neighboring villages where they invite local women to dancing at the square, to the tune of violins and lutes. Reciprocating, the women offer the men delicacies and wine.
In the old days the custom also functioned as a means of facilitating the meeting of young people from different villages and resulted in many marriages. But it is still observed in earnest, relayed from one generation to the next.