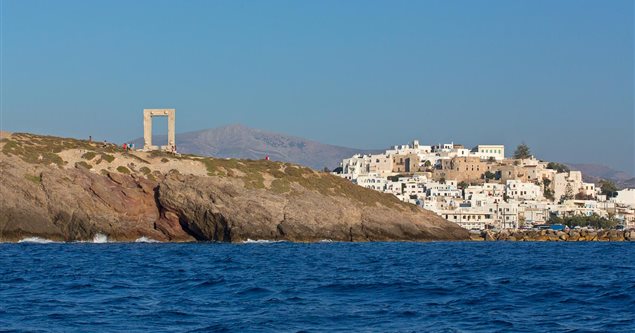 Established where Naxos's ancient city once stood, Chora, the island's capital and port, is located on the central west coast.
Whitewashed Aegean-style houses, old stone-built mansions, narrow alleys and arches characterize the main town, spread around and within the medieval castle, or Kastro, built by Crusader Marco Sanudo in the 13th century.
The medieval city was built within a wall, part of which stood as the exterior walling of homes on the outskirts and included the Duke's Palace, the mansions of nobles around the palace, and twelve towers.
The city was accessed via three gates.
At one of these, known as Trani Porta, the heavy wooden door survives to this very day. Other surviving medieval landmarks include Sanudo's Tower, the Della Rocca-Barozzi mansion, the Ursulines school building, the Catholic cathedral and the Jesuit School of Commerce –nowadays housing the Archaeological Museum, with rich finds from the Neolithic to early Christian years.
After Kastro was built, two neighborhoods developed beyond its walls. One of these, Burgo, to the west, was home for the city's more affluent citizens. The other, Nio, was located to the south.
Today, Naxos's main town is spread around Protodikiou Square. with abundant shops, restaurants, bars, and cafes that fill with tourists during the summer months.
Naxos's main town is unique in that it offers visitors the opportunity to explore the busy modern streets and also roam through the castle's medieval alleys for a trip back in time.
This prospect makes Naxos's main town one of the most popular destinations for visitors touring the Cyclades.