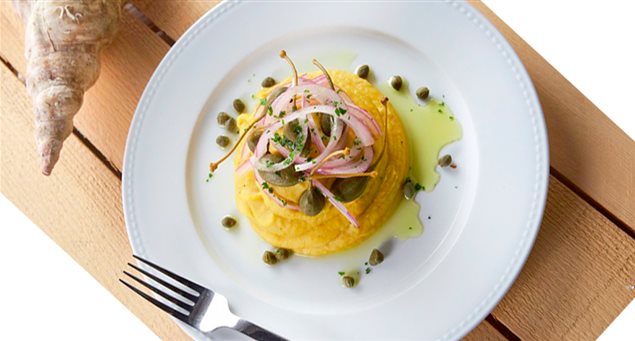 Fava, the puree made from the chickpea, is a staple Lenten dish because it contains many vitamins. A chef shares four recipes using fava from Schinoussa.
Classic Schinoussa Fava Recipe
500 gr fava (Schinoussan variety)
1,5 liter water
1 large onion, coarsely chopped
2-3 medium sized carrots
1 sprig rosemary
4-5 tablespoons olive oil
salt and pepper to taste
Directions: Pick over dry fava. Saute vegetables in a low, large pot. Once browned, add the fava beans and rosemary and saute for a bit, then, add the water. Simmer on low heat for about an hour, removing the froth, adding a bit of water if required and stirring carefully a few times with a wooden spoon. When fluids have been absorbed and the fava has a thick consistency it is ready. Add salt and pepper and whip the fava with a wooden spatula. For a creamer consistency you may whip it in a blender or mixer on slow speed.Serve with drizzle of olive oil and chopped onion.
#2 Fava, Married
Prepare classic fava recipe (as above). And "marry" it or serve it with any of the following:
A: With sauteed "lountza sausage" from Mykonos
B: With anchovies, marinated with mustard seed and fennel
C: With capers in tomato sauce
D: With sun-dried octopus, grilled
E: With capers and sun-dried tomato
#3 Favokeftedes (Favaballs)
Ingredients:
300gr classic fava (cooked as recipe above )
1 onion chopped dry
2 cloves of garlic
a handful of fresh basil
a little chopped parsley
1 egg
a little olive oil
sweet paprika

chopped chives
flour
Directions: Combine all ingredients in a bowl and leave in the fridge to cool thoroughly for 2 hours. Remove and make into ball. Dredge fava balls in flour to fry in olive oil on medium heat.
#4 Fava Soup
Ingredients:
1kg fava beans
1.5 dry onion
3 carrots
2 cloves of garlic
1 leek (only the white part)
2 bay leaves1 glass of white wine
60 ml olive oil
2 Knorr chicken cubes or chicken broth
Directions: Saute the vegetables together with the beans until browned. Then add the white wine. Simmer until wine is absorbed then add the bay leaves and chicken cubes/broth. Then add the water and bring to a simmer for about an hour, hour and a half.
NOTE: If you make your own chicken broth, just add the broth and not the water.
| | |
| --- | --- |
| Source | Chef Pantelis Athanasiadis, "Balcony on the Cyclades" |