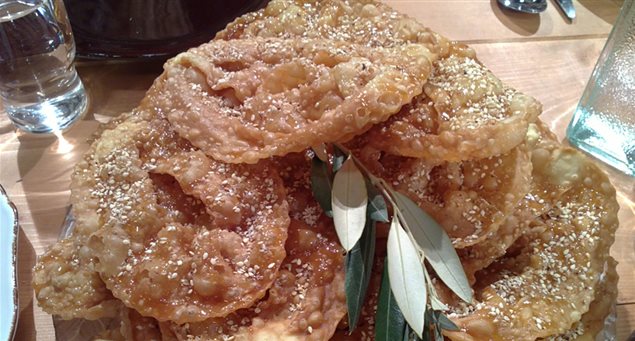 Ingredients
For the dumplings:

1 kg. all-purpose flour
1 tsp salt
a little olive oil
enough water to make a smooth dough
corn oil for the frying pan
For the syrup:
2 water glasses of sugar
3 glasses of honey
1 glass of water
1 piece of cinnamon bark
Directions:Place all the ingredients for the dumplings in a large bowl and knead thoroughly. Let the dough rest for 10 minutes, then roll it out into thin pastry. Cut the filo into strips (about 10cm wide and 15-20cm long) and fold them once. Fry in corn oil and let them drain for about 30 minutes. Drench with the syrup and sprinkle with roasted sesame seeds.