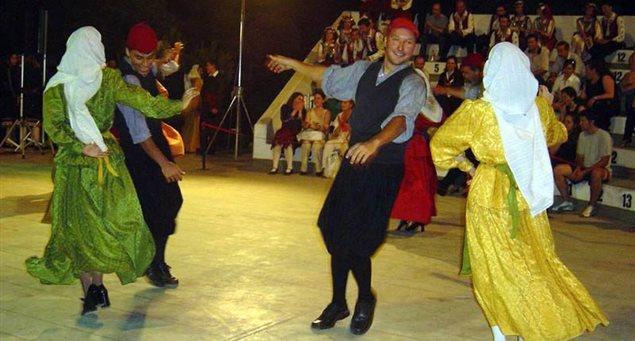 Feasting, music and dance were always deeply embedded in the life of Naxiots, being means of expressing feelings and emotions, as well as antidotes to adversity and sorrow.
Naxos's music and dance tradition is deeply rooted and virtually impossible to trace, both in terms of time and location.
Ancient artifacts from as far back as the Proto-Cycladic period (3rd millennium BC), depicting musical and dance illustrations stand as proof of Naxos's uninterrupted and age-old connection with dance and music.
Amongst various music and dance-related antiquities that have been discovered, historian and writer Nikos Kefalliniadis makes reference to a dance performance depicted on an ancient stone bed found at the Korfi t'Aroniou hilltop in the Apiranthos area, as well as the "harpist" and the "flutist" of Keros, an island – nowadays uninhabited – about seven n.m. southeast of Naxos.
And in her writings, Dialechti Zevgoli-Glezou, a poet from Naxos, illustrates, in a lively fashion, the uninterrupted connection over the ages between the everyday lives of Naxos islanders and music and dance:
"Every house would be a dance venue, ceaseless feast and celebration.
We would dance in the fields, squares, even streets.
Even the smallest attic was not left quiet,
We danced and threw flowers around, lissome lads and lasses."
Naxos's traditional songs hail primarily from two villages, Apiranthos and Kynidaros. According to the academic and folklorist Dimitris Economidis, "for historical reasons, and subsequently, social ones, the island's capital, Chora, does not have ties with Naxos's traditional songs."
Despite the wider impact of modern day lifestyles and the invasion of new musical tastes, Naxos's traditional form of dance music remains very much alive.
Entire musical families – musicians, vocalists, and lyricists – based in Naxos's villages of Kynidaros, Komiaki, Koronos, Apiranthos and Filoti are carrying on with the age-old music and dance traditions of their respective homelands.
As for the dancing ability of Naxos locals, it is a talent that is developed from childhood and eventually mastered as a result of continual participation at local music and dance events.
The nature of celebration on the island, its music and song styles, as well as the types of instruments used, have all undergone change over the years.
Songs from Asia Minor gradually began infiltrating the musical scene in Greece, including Naxos, around 1912.
After 1922, with the mass arrival of refugees from Asia Minor following the disastrous Greek military campaign against Turkey, this influence grew considerably and ultimately led to its complete assimilation.
The considerable influence of the music and dance traditions Asia Minor and Constantinople is reflected in the variety of dances and instrumental styles from the era, such as Politiko Syrto (Constantinople), Smyrneiko (Smyrna), Silivriano, Aivaliotiko etc. –the names indicating their geographical origins.
According to Naxos artist Giorgos Konitopoulos, a member of a widely popular musical family of national fame, "…we may say that, today, seventy percent of Greek island songs originate in Asia Minor."
During the first few decades of the 20th century, the souravli, alternately known as the souvliari, which is a traditional wind instrument, the tsabouna, a bag-pipe instrument, and the percussive toubaki, began giving way to the combination of clarinet, violin, and lauto, a traditional stringed instrument. Violin and lauto eventually became the foremost instruments heard at the island's celebrations and feasts.
However, the tsabouna-toubaki combination continues to hold strong at celebrations in Naxos's uplands, especially for carnival-season events.
The santouri, a stringed percussion instrument, or dulcimer, has gradually faded from the picture following several decades of continual presence at island celebrations.
This could possibly be attributed to a lack of new santouri instrumentalists.
The evolution of the island's folk songs may be divided into three categories, according to Stavros Spiliakos, an academic and researcher specializing in traditional Greek dance:
The pre-Naxos tradition: the free-verse, narrative and non-rhyming Akritika – legends of the Byzantine era-love stories, and Moraitika (Peloponnesian) songs
The Naxos tradition–songs developed through social change and assimilation by local artists.
The post-Naxos era–the style developed after the War period (1940) to today.
Naxos's dance styles may be listed as: syrtos (slow or fast);  ballos (slow or fast) –a  natural evolution and result of various syrto dances; vlacha; dirla; vintzilleadistikos; kotsatos; and nikindres.
However, a variety of other styles originating outside Naxos, such as Kalamatianos, Paros's Ageranos, tsifteteli, chasaposerviko, and zeibekiko, are often danced at festivities on the island, as are foreign dances, including tango and waltz.
Generally speaking, dance proceedings at celebrations on the island begin with slow-paced styles, gradually liven up with faster, bouncier styles, and eventually wind up with the ballos, a style danced by couples, face to face.
Over the years, dancers would develop their own particular dancing identities, of which musicians would become accustomed and respond with "tailor-made" deliveries based on the likes of dancers.
Feasting and dance, which has always been intertwined with life itself for islanders, especially on Naxos,served as a form of entertainment, expression of feelings, and an antidote to life's bitter times.
However, these days, modern lifestyles, new forms of entertainment and the increased demands of everyday life have all combined to lessen the authentic passion once felt for traditional island music and reduce the frequency of celebrations held at the villages of Naxos.
Although these conditions have led to an overall decline in Naxos's musical standards – threatening to turn the island's traditional music into an item fit for the museum –a kind of folklore, an increased interest in traditional music by younger people has been noted in more recent years.
This development has led to the emergence of promising musicians and vocalists and offers hope for the future standing of the island's music and dance tradition.