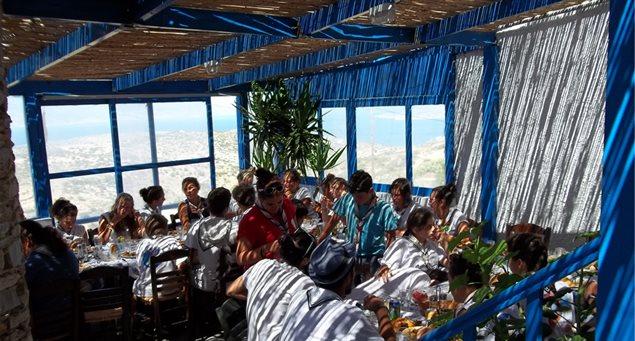 To Steki is situated in the village of Panagia, next to the Church of Panagia. The restaurant is on the terrace with an exceptional view of the sea and nearby islands. Food is prepared in the traditional Greek way, using fresh local products like goat's cheese, milk, meat, fava (split peas) as well as fresh fish from local fishermen.
Popular dishes include the traditional rice-stuffed goat/lamb baked in a wood -burning oven, the velvety smooth fava (split peas) and vegetarian dishes from traditional Greek cuisine.
Access to Steki:
There's a tarmac road connecting Panagia with Agios Georgios, the port of the island. There's ample space for parking at the entrance of the village, which is just a few meters away from the restaurant.
During summer, there's public transport in the means of a Community minibus that one can use to get around the island.
Open all day and in the evening, year-round.