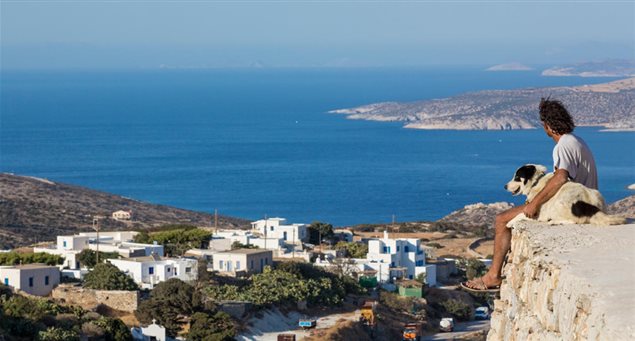 Release yourself to the island of Iraklia and release yourself to the simple life with only hints of urban city life. Get away from it all by delving into Iraklia's interesting legends, myths and one of Europe's naturally-protected habitats.
Iraklia's rocky terrain gives way to several glorious sand and fine pebble beaches, many accessible by foot and many more by passenger fishing boats.
But don't let the simple landscape fool you.
Iraklia is quite rich in history and offers interesting things to see and learn about, including visiting the cave and favorite hangout of the mythical Cyclops or witnessing the rare and endangered species and birds such as the Mediterranean monk seal and dolphins that frequent the island.
One of the Cycladic's largest caves, Agios Ioannis, is here too; a day trip of trekking will get you there.
Basic Info:
Access from Naxos: 
Year round*
• Local ferry, Express Skopelitis (approximately 1.5 hours), daily, except Sundays
• Ferry line 3x per week (approximately 1 hour)
[*Please note: schedules/timetables are subject to change. Please contact your travel agent and/or the airline/sea transport line for the latest schedule information. Peak season usually begins from the Greek Orthodox Easter holiday, late Spring and continues to early Fall – mid October].
Location: In between Ios and Naxos
Size: Area 18 sq. kilometres; 29.94 km coastline
Population: Approximately 150 (permanent residents)
Number of Beaches Accessible by Foot: 7
Number of Trails: 7 [(ranging from 10 minutes (400m); to 2.5 hours (6.5 km)]
Highest Mt. Peak: Mt. Papa (420m)
Claim to fame: Home of the mythical Cyclops
Don't miss: The Agios Ioannis (St. John) cave and the special annual event that takes place inside the cave annually on August 28.
Local product to taste: Local thyme honey
Best time to go: Late May-September