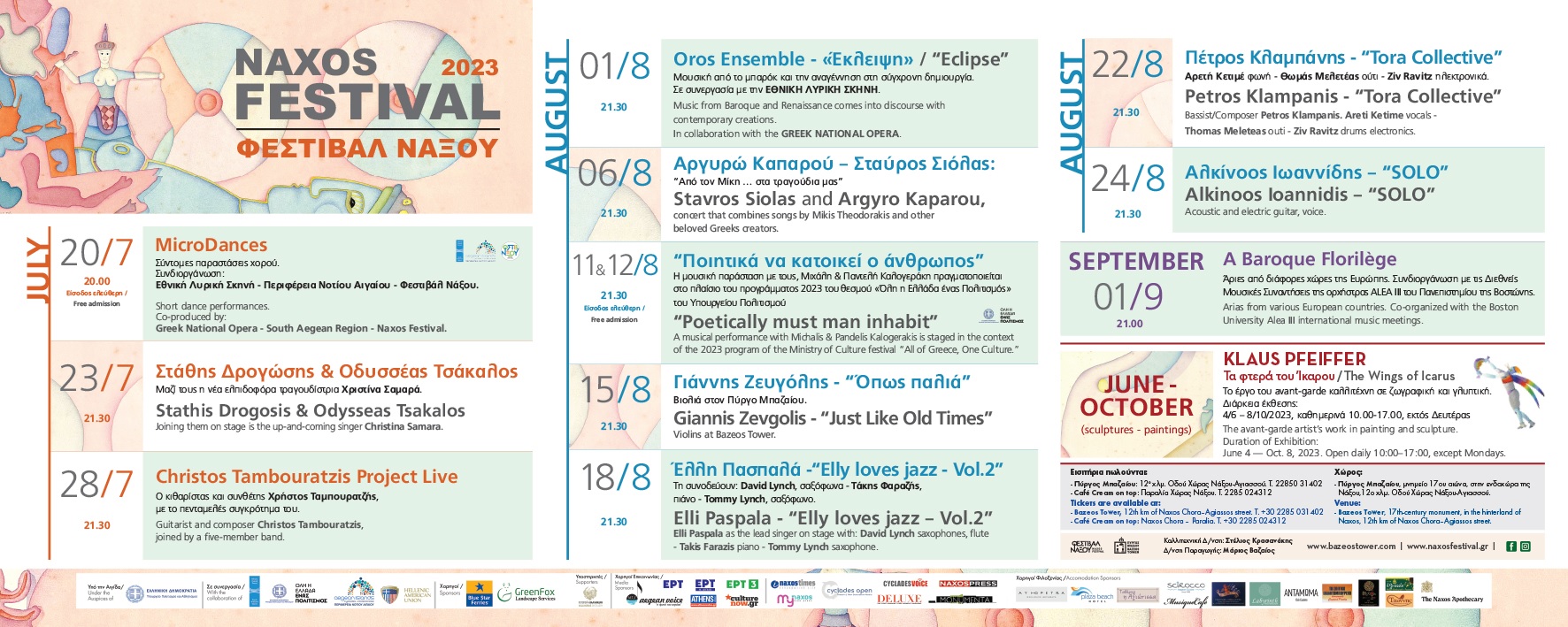 Throughout its long history, Naxos Festival has maintained its orientation towards high quality and outstanding artistic result, by selecting distinguished representatives of all art sectors and entering into collaborations with renowned cultural institutions from Greece and abroad. Constantly aiming for the entertainment, aesthetic pleasure and spiritual uplift of its audience, its program is addressed to both locals and international summer visitors, with no discriminations, exclusions, or other restrictions. For twenty-three years, the Festival has been a grand cultural celebration for the island of Naxos and all of the Cyclades, and a powerful driver for the development of local cultural tourism. The Festival's events take place in historical sites and venues that embrace, inspire and highlight people and events.

ARTISTIC PROGRAM NAXOS FESTIVAL 2023

DANCE

MicroDances | Thurs., July 20 | at 20.00
The Ballet of the Greek National Opera is presenting four MicroDances, i.e., short dance performances (about 10 minutes each), choreographed by Yannis Nikolaidis, Elena Kekkou and Konstantinos Rigos. The four dance installations, Knight Rider, Active Motive, Forget Me Not, and Bolero, designed for one dancer and a limited space, are staged at Bazeos Tower. The aim is to promote dance as a public art, as well as its interaction with sites or venues of significant historical and symbolic character.
Knight Rider Choreography: Yannis Nikolaidis Original Music Composition: Manolis Manousakis Costumes: Ioanna Tsami Dancer: Margarita Kostoglou
Active Motive Choreography: Elena Kekkou
Music: Antonis Vlachos Dancer: Elena Kekkou
Forget Me Not Choreography: Konstantinos Rigos Music: Giorgos Koumendakis Saxophone: Guido De Flaviis Dancer: Vangelis Bikos
Bolero Choreography: Konstantinos Rigos Music: Maurice Ravel Dancer: Vangelis Bikos

MUSIC

Stathis Drogosis & Odysseas Tsakalos | Sun., July 23 | at 21.30
Stathis Drogosis and Odysseas Tsakalos join forces on a summer tour across Greece. After quite some time, they put together an extraordinary band, pack their big suitcases with songs, and take us on a nostalgic, tender and uplifting journey.
Attention: This is a sound journey, free from chatter but filled with the well-known creative inwardness that is typical of Stathis and Odysseas — for those in the know and those who are interested to find out!
"Leave everything behind and let's go on a road trip… We'll be looking ahead, music playing, before dawn I will tell you, I love you.
It'll all be okay…"
Joining them on stage is the up-and-coming singer Christina Samara.

Christos Tambouratzis – Project Live | Fri., July 28 | at 21.30
Guitarist and composer Christos Tambouratzis has been collaborating with many Greek artists for several years, in live performances and recordings. As a composer, he has collaborated with the greatest domestic performers, earning 5 Global Music Awards since 2018. At his concert, he is presenting his personal discography, joined by a five-member band.

Oros Ensemble – "Eclipse" | Tues., Aug. 1 | at 21.30
In collaboration with the GREEK NATIONAL OPERA
Oros Ensemble is presenting a new musical program covering a wide historical and geographical range. Music from Baroque and Renaissance comes into discourse with contemporary creations, the main thread binding them together being the eternal play of "eclipse" between past and present. With the Aegean Sea dominating the natural surroundings, the passage of time acquires a symbolic dimension, comparable to the eternal journey of sound through the ages. Thus, music returns to its primordial dimension, healing us, through the manifestation of what we already implicitly contain. Works by: G. Koumendakis, F. Couperin, A. Koutsogiannis.
Musicians: Vasilis Zigeridis – Kanun, Konstantinos Zigeridis – Accordion, Dimitris Karagiannakidis – Cello, Eirini Krikoni – Violin, Antonis Tsachtanis – Clarinet, Apostolis Koutsogiannis – fipple flute, composition.

Argyro Kaparou – Stavros Siolas | Sun., Aug. 6 | time 21.30
Composer and performer Stavros Siolas and performer Argyro Kaparou have been collaborating since 2014, always renewing their rendezvous on stage, in a program that combines songs by Mikis Theodorakis and other beloved Greeks creators with their personal repertoire, as well as with music from their places of origin, Thrace and Asia Minor.
Actress Anna Psarra intercedes in the concert with short texts by Mikis Theodorakis and poems from the Greek folk tradition.
They are accompanied by 2 musicians playing piano and accordion.

"Poetically must man inhabit" | Fri. & Sat., Aug. 11 & 12 | at 21.30
A musical performance based on the verses and reflections of poets from various different generations and places. Musical pieces, songs, speech and images make up a web of timeless stories about the diversity of nature and its impact on the psyche and evolution of man. Featuring: Michalis and Pantelis Kalogerakis (composition, performance); Alexandros Kaklamanos (visual arts creation); Stelios Krasanakis (dramaturgy, direction). Musicians on stage: Alexis Stenakis (clarinet); Alexandros Tziovas (double bass); Konstantinos Rammos (piano).
The production is staged in the context of the 2023 program of the Ministry of Culture and Sports' festival "All of Greece, One Culture."
The event is offered with free admission, courtesy of the Ministry of Culture and Sports. Only the entrance fee to the archaeological site is payable. Advance reservations are required. For more information and reservations visit: digitalculture.gov.gr

Giannis Zevgolis – "Just Like Old Times" | Tues., Aug. 15 | at 21.30
Violins at Bazeos Tower. The renowned musician highlights the rhythms of the Aegean islands and the coasts of Asia Minor, with instruments and sounds that echo an authentic traditional festival.
Giannis Zevgolis violin
Dionysia Papouli voice, percussion
Matthaios Zevgolis voice
Angeliki Pardali santur, voice

Elli Paspala – "Elli Loves Jazz" Vol. 2 | Fri., Aug. 18 | at 21.30
After an exciting winter season, the show that captivated the Athenian audience is now touring across Greece!
A performance dedicated to the huge tradition of jazz music and the legendary songs that indelibly marked the history of world music, featuring Elli Paspala as the lead singer, and her remarkable musicians as co-creators on stage.
David Lynch – saxophones, flute
Takis Farazis – piano
Tommy Lynch – saxophone

Petros Klampanis – "Tora collective" | Tues., Aug. 22 | at 21.30
Bassist and composer Petros Klampanis moves from the present to the past and back again, as he experiments with traditional Greek music, rendering folk sounds in jazz orchestrations. An imaginative concert that bridges worlds — the East and the West, the traditional and the modern, nostalgia and a look to the future — tapping into the power of music and improvisation. Joining him on stage is a group of extraordinary musicians: Areti Ketime, with her magical, ethereal voice; Thomas Meleteas on outi, Ziv Ravitz on the drums and electronics.

Alkinoos Ioannidis – "SOLO" | Thurs., Aug. 24 | at 21.30
Alkinoos Ioannidis solo on stage, playing and singing his songs in their purest form, taking us back to the moment of their creation. Following a centuries-old tradition, that of the troubadours, he travels with his guitar, sharing feelings, thoughts, experiences, dreams and realities that concern us all.
A program to listen to and participate in, carrying us straight into the core of this sacred art through its intensity and silences.
Alkinoos Ioannidis: acoustic and electric guitar, voice.

A Baroque Florilège | Fri., Sept. 1 | at 21.00
An evening of arias from various European countries of the 17th and 18th centuries, featuring the famous Canadian Michel Cardin and his associates from Greece, Germany and America.
Co-organized with the Boston University Alea III international music meetings.
Featuring:
Thalia Moutopoulou, soprano
Chrysostomos Kalogridakis, tenor and guitar
Michel Cardin, theorbo and Baroque lute
Julie Ventoura, harpsichord
Kathleen Kalogera, viola
Susanne Cordahi, cello

VISUAL ARTS

KLAUS PFEIFFER
The Wings of Icarus
The exhibition is a tribute to the artist Klaus Pfeiffer (1938–2022), who lived and created on the island of Naxos for more than 50 years, bequeathing his work to Naxos Festival to be preserved as a cultural asset of the island. The avant-garde artist's work in painting and sculpture encapsulates classical
Greek mythology, social criticism and motifs of classical art history, transposing them into a colorful, contemporary composition.
Curated by: Britta Breuers – Mario Vazaios
Duration of Exhibition: July 4 — Oct. 8, 2023.
Open daily 10.00–17.00, except Mondays

As always, literary evenings, lectures, screenings and workshops for young and old enrich the Festival's events, imbuing art into the Naxos holiday experience.

Organization: "AEON" Cultural Organization
Artistic Director: Stelios Krasanakis
Executive Producer: Mario Vazaios
Technical Support: Michael Mathiasos – Power Sound
E. naxosculture@gmail.com

Tickets are available at:
Bazeos Tower, 17th-century monument, in the hinterland of Naxos,
12th km of Naxos Chora–Agiassos street . T. +30 2285 031402
Café Cream: Naxos Chora, paralia. T. +30 2285 024312
bazeostower.com | naxosfestival.gr |