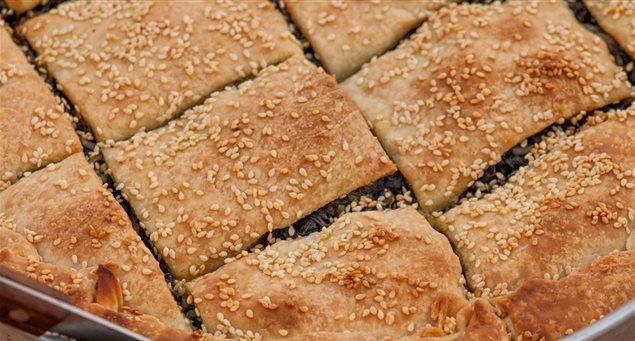 Ingredients
For the stuffing:
2 kg chards (seskoula) or wild greens
½ kg rice
1 bunch parsley
1 bunch fennel
1 bunch mint
1 large onion
1 cup olive oil
1 cup water
Salt and pepper
For the pastry:
1/2 kg all-purpose flour
1 cup olive oil
dash of vinegar
salt
water
Finely chop the onions, the chards and the herbs and sauté them in the olive oil in a large pan. Add the water. As soon as they start boiling, add the rice, the salt and the pepper and stir well. Let them come to the boil two or three times and remove from the fire.
To make the pastry, place the flour in a bowl, make a hole in the center and add the olive oil, the vinegar and the salt. Knead, adding as much water as it takes to make a firm dough. Let the dough rest for about two hours, then divide it in two parts.  On a floured surface, roll out each half into medium-thick sheet and spread one on a greased baking tray. Empty the stuffing onto it, cover with the second pastry sheet and fold the edges inwards and pinching the two sheets of pastry together. Brush the surface of the pie with some olive oil, mark it into squares with a knife and bake for about 45 minutes.
| | |
| --- | --- |
| Source | "To Maerio tis Naxou" by Katerina Sideri |