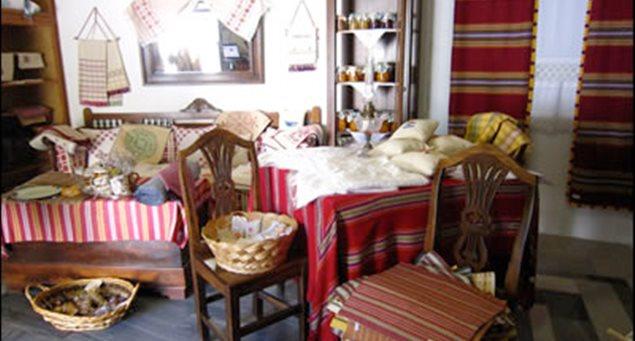 A visit to the Apiranthos Women's Traditional Crafts Cooperative, located exactly opposite Panagia (Virgin Mary) church, is highly recommended –if only for a glimpse of the woven products made on the traditional local loom (krevataria).
Carrying on with the tradition, the local women reproduce the designs and colors of their mothers and grandmothers to create excellent quality woven products and other decorative items for domestic purposes.
The cooperative was founded in 1987 at the initiative of then mayor Manolis Glezos –a WWII resistance hero (see Personalities section).
The products, which are made in a section of the village Cultural Center during the winter, are exhibited in a showroom opposite the aforementioned church every summer.
The cooperative has staged numerous exhibitions at the center and, more recently, with support from the Athens branch of the Apiranthos Society, offered weaving lessons to unemployed women at the village. Besides woven items, it also retails books by local writers.
| | |
| --- | --- |
| Directions for access | Apiranthos village is connected by road with Naxos's main town, Chora. |
| Parking | Parking space is available by the village entrance. |
| Public transport info | Public transport service runs more regularly during the summer months. |
| Accessibility for wheelchairs | Accessible for wheelchairs. |