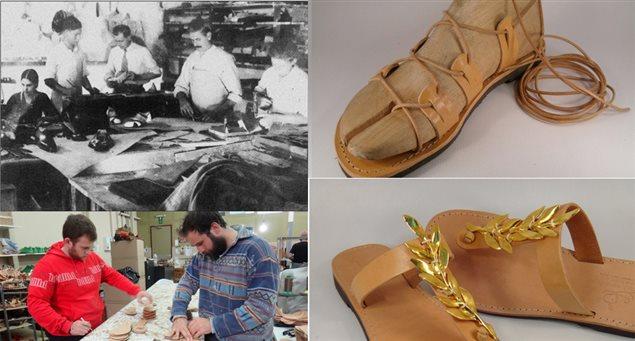 Sandals to Make You Feel like a Stylish Greek God or Goddess  … or Not
You don't have to be a fan of the movie "300" to want a pair of ancient Greek-style leather sandals.
Many a celebrity who have passed through Greece and the Greek islands over the years have appreciated the durable classic footwear making it part of their summer fashion wardrobe and shoe collection.
On Naxos, Pagonis is a name synonymous with this classic Greek leather form of footwear.
"We are in our 3rd generation of handmåade shoe making," says Kostas Pagonis, who learned the craft from his father and uncles who started the family business on Naxos in wartime 1940.
"Our shoe shop , originally located in the Old Town, just behind the port, made shoes for special occasions. It was where Naxians bought their good pair of shoes, shoes that were made to last," explains Kostas.
In 1958, the family moved the business to Athens' Psiri district, where many shoe shops are and were located. It was there that they began to learn the craft and focus more exclusively on the classic Greek leather sandal.
Moving back to Naxos in 1984, the family launched Pagonis Greek Sandals. Today, father, son and daughter create dozens and dozens of sandal styles ranging from the classic leather Greek sandal to enhanced versions; some decorated with faux bijoux, stones and semi-precious stones, and others with design elements inspired by Greece, such as an olive branch, a wreath a Greek god, or goddess.
Of course there are unlimited variations on the classic natural sandal some with a toe knot, others with straps, gold hoops, backs or no backs. Styles are for men, women, children and tots.
All involve handiwork and crafting, from the stitching, to the detailing of each shoe. Custom-made orders are a highlight of the Pagonis sandal. Customers visiting the shop may choose from dozens of styles "off the rack" or consult the catalog and design their own pair.
When asked what makes the leather Greek sandal a timeless fashion item Kostas Pagonis says: "The ancient history of the Greek sandal and the love in making them are the determining factors. No one else had duplicated this item. It is a Greek product. This is the base, the stepping stone of which we then move forward, promoting Greece and this product, worldwide, with new designs, new styles."
For more information: www.greek-sandals.com