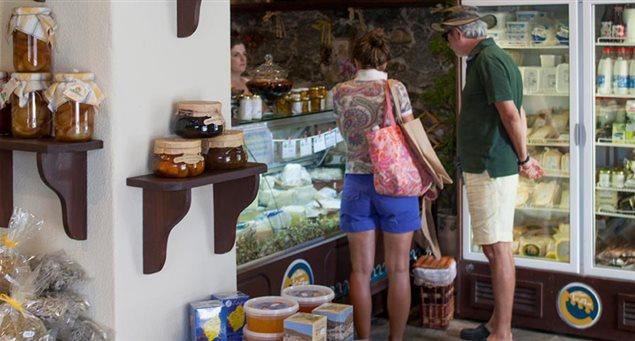 An Intro to Shopping on Naxos and the isles of the Small Cyclades: What to buy and where.
What's a vacation without a little shopping?  No matter how much time you spend lounging on the beach, hiking, biking, windsurfing, sightseeing or snorkeling, there is always time for shopping. It's part of the experience.
Whether just browsing or looking to buy, Naxos and the isles of the Small Cyclades – Iraklia, Schinoussa, Koufonissia and Donoussa — do provide some unique shops where you are sure to find something special.
Being the largest of the Cycladic islands, Naxos has the greatest variety, with Koufonissia, actually the Cyclades' smallest island, running up second. In between are Iraklia, Schinoussa and Donoussa, each of which has a few charming shops.
On all the islands, the stores are usually found in Chora, the term for "main town," with the exception of Naxos, that boasts pockets of shopping areas in the larger, more populated villages, beachside town and historic Old Town.
Special things to look out for include local food products such as cheeses, honey, spirits and liqueurs, herbs, crafts made of wood, ceramics, embroidery and works of art made with Naxian marble.
When in doubt, or in a rush, the supermarkets are always a great resource for wines, cheese and other local-produced specialties.