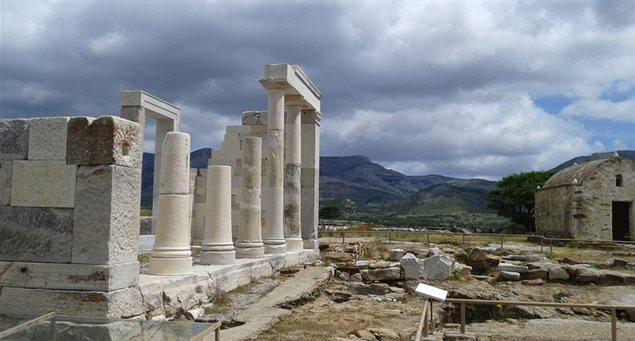 Demeter, the goddess of earth fertility, and her daughter Persephone were worshiped with special affection by Naxiots. 
The myth of Mother and Daughter –who was abducted by Pluto and taken to the netherworld as queen of Hades- symbolizes the cycle of seasons.
The sorrow which accompanies the wilting of nature in the autumn and winter gives way to the joy brought by revivification in the spring and summer.
Naxiots built a splendid temple for Demeter –protector of the farmers and agriculture- at a conspicuous position in the fertile valley of Baouzi, in the Sagri area.
The ruined temple has been recently restored, mostly with its original marble pieces that were collected from the surrounding area.
It is considered one of the most representative and important ancient temples, not just for the historical evidence and knowledge of Naxos society that it has provided but also for its contribution to understanding the ancient religion and worship.
It also features architectural elements which we find later in the Parthenon.