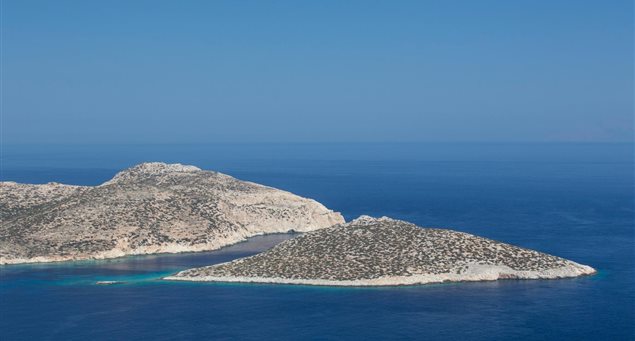 Donoussa is surrounded by many uninhabited rocky islets of particular interest. To the east lies Skoulonisi,a triangular shaped islet.
Two theories exist in connection with the origins of the islet's name. The first asserts that it is derived from the Greek word for dog, skylos, and the second, which is more prevalent, from the plant skoulos that grows on the islet's slopes and is collected for pickling.
To Donoussa's west lie Makares, a formation of three rocky islets. One of these, Agios Nikolaos, sub-named Megalo (meaning large one), was used by Donoussa residents in the past to cultivate grain.
Also part of the formation, Prassini, alternatively also known as Agia Paraskevi, is separated from Agios Nikolaos by a shallow strip of sea just 1.5m deep.
The sea here is turquoise and gorgeous to say the least. As a result of the shallow waters, however, it can be approached only by small-sized boats that need to sail conservatively with great care.
The triad's third rocky islet is known both as Stroggyli or Stroggylo, meaning round or circular. To Donoussa's northeast lie the rocky islets Melantii, also known as Chtenia and Vouves.