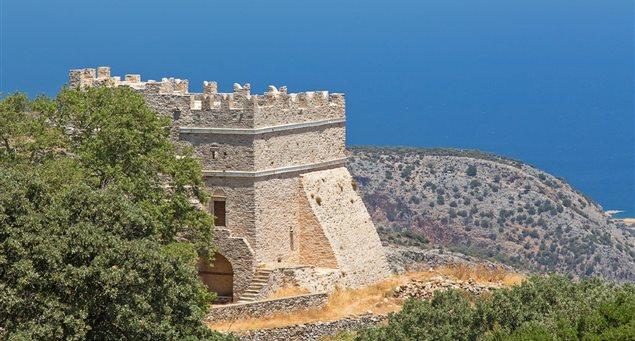 Photodotis is Naxos's oldest and perhaps most important fortified monastery.
Located at an idyllic spot at an altitude of 500m, north of the village of Danakos and amidst age-old oak trees, fig trees and vineyards, the imposing structure was built on the ruins of a 6th century basilica some 300 years later.
The location offers superb views of the Aegean Sea and the island of Donoussa.
The monument comprises two floors. The ground floor is taken up by the three-aisle church. The dome is supported by four marble pillars and the marble iconostasis bears elaborate sculptures. One of the two rooms on the right of the main church was most likely a crypt.
The first floor, which is accessed via an external, stone-built staircase, features an atrium dominated by the dome. This is surrounded by the abbot's quarters, monks' cells and bastions.
The founding of the monastery is shrouded in legend. According to the most prevalent version, it was the fulfilling of vow by a princess who faced great danger while sailing off Naxos. She is said to have picked the particular spot because she saw a light coming from it, hence the name, which means "Light Giver".
The church is dedicated to the Transfiguration of the Savior, celebrated with vespers on the eve and mass on August 6.
Restoration work was completed in 2007. An age-old plane tree in the courtyard offers respite from the heat in summer.
1/6 – 30/9
June & September: 11am – 2pm

July & August 11am-3pm

Danakos
Free entrance
Directions for access

By private car, via the tarmac road to the Church   of Agia Marina and then dirt road to the monastery.
By car to Agia Marina and then on foot for about 1km.
On foot via the pathway from Danakos.

Parking
Parking space is available nearby.
Accessibility for wheelchairs
Inaccessible for wheelchairs.