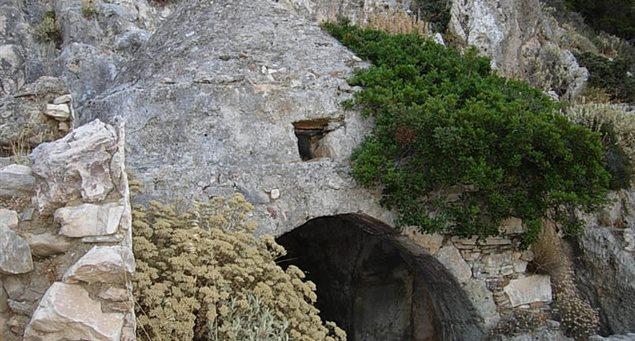 The fascinating cave of the Nativity and the remains of the early Byzantine monastery of Kaloritsa are found above Timios Stavros monastery, on the slope of Mt. Prophitis Ilias on Naxos.
The natural cave, which measures approximately 30m in length and 10m in width, was likely converted into a church in the 4th century because, according to tradition, an icon of the Nativity of Christ was found by a shepherd inside it.
Above the cave are the remains of the monastery, which is dated between the 11th and 13th centuries.
The church inside the cave features the remains of a central arch, a bishop's throne, frescoes of the pre-iconoclastic and post-iconoclastic periods, as well as one depicting the Nativity, created in 1619.
Outside the cave are found the remains of monastic cells, a bakery and an atrium with suspended arches which date to the post-Byzantine era.
| | | | |
| --- | --- | --- | --- |
|   | Permanently open |   | 22850 31326 |
|   | 22850 31626 |   | Free |
| | |
| --- | --- |
| Directions for access | An accessible track from Timios Stavros monastery (Bazeos Tower) leads to the cave. Approximately 15 minutes required. |
| Accessibility for wheelchairs | Inaccessible for wheelchairs. |