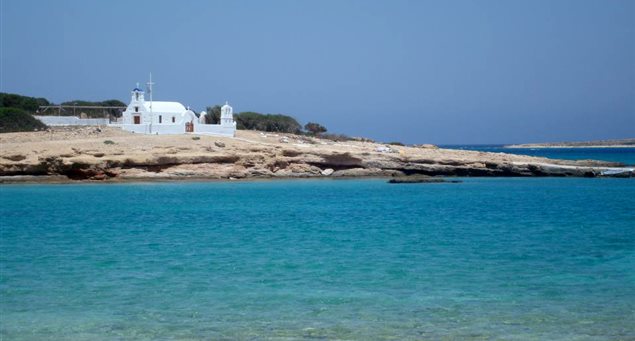 Located a few minutes away from Koufonissi by boat, Kato Koufonissi, (4.3 sq. km) is an ideal half or full day excursion offering a very remote island experience.
In the high season, visitors can take advantage of discovering the pristine and relatively secluded beaches of Kato Koufonissi via passenger fishing boats that depart daily from the port of (Ano) Koufonissi. 
Here, awaits a natural Cycladic beach haven with crystal clear waters and little signs of civilization, except for the few small summer homes, the taverna that is open during the summer months and the picturesque chapel of Panagia (Virgin Mary) that greets visitors at the small port.
It is important to know that there are no organized facilities on the island and that visitors should come equipped with an umbrella, towels, hat, towels, sunscreen, water etc.
Hikers can take the challenge to explore the island on foot, keeping in mind that the paths are not numbered trails, but rather farmers' paths, albeit not too rugged and manageable with caution. It may take a few hours, so make sure that: 1) you have appropriate gear (shoes, hat, water, etc,) and 2) the time as to not to miss the return boat back to (Ano) Koufonissi.
The passenger fishing boat drops off and picks up at the small port where the taverna and the chapel are as well as at Nero beach.
Here is a quick guide to the beaches on Kato Koufonissi:
The two sand and pebble beaches closest to the port/taverna/church is Lakki (5 minutes walking distance) and Detis (15 minutes walking distance) from the port on the southern coast.
About 1 hour away by foot from the first drop off point and accessible too, directly via passenger boat is Nero, the island's largest and most popular destination. This beach, on the eastern coastline features thick sand and tiny pebbles and rocks.
Another beach within hiking distance– for those who are up for it — is Pezoulia. About an hour away by foot from Nero this is a secluded beach on the island's southern coast with thick sand, tiny pebbles, inside rocky terrain and crystal-clear waters.
There is one more beach on the north side of the island, Fykio, that is a bit more difficult to get to and tends to get windy as its exposed to a northern wind. However, on a non-windy day it might be worth the trek.
And remember: Don't miss the boat.
Good to know: Each year, on the 15th of August, the little white Church of the Virgin Mary celebrates. The little passenger boats transport parishioners and visitors to Kato Koufonissi to partake in the liturgy held there and to enjoy a meal afterward.