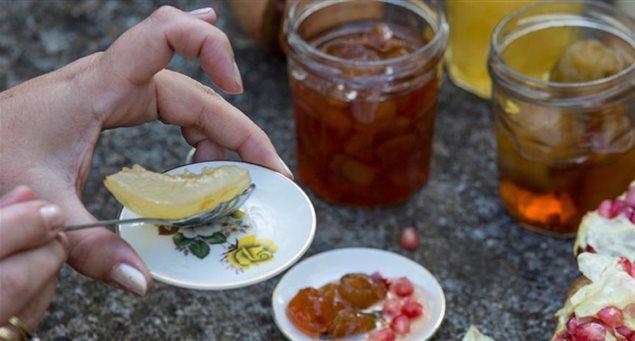 Ingredients
1 kg sour cherries
1 kg sugar
½ cup water
juice of half a lemon
Directions
Wash the sour cherries and remove the stones with a hair pin or with a special utensil, making sure to do so over a bowl so that you can collect the juice. Wash the stones in a bowl with the ½ cup of water that you will later use for the syrup.
In a saucepan, layer the sour cherries with the sugar, adding the lemon juice, the collected sour cherry juice and the water (without the stones).
Simmer with the lid on the saucepan for several hours, removing the scum that collects on the surface with a slotted spoon at regular intervals. When the mixture thickens, take off the heat and leave to cool overnight. The following day, bring the mixture back to the boil, adding the lemon juice.
To make sour cherry syrup, add another ½ kilo of sugar to the original recipe and follow the same steps. Remove the syrup from the saucepan, saving the cherries for spoon sweet, and store in glass jars.
| | |
| --- | --- |
| Source | "To Maerio tis Naxou" by Katerina Sideri |