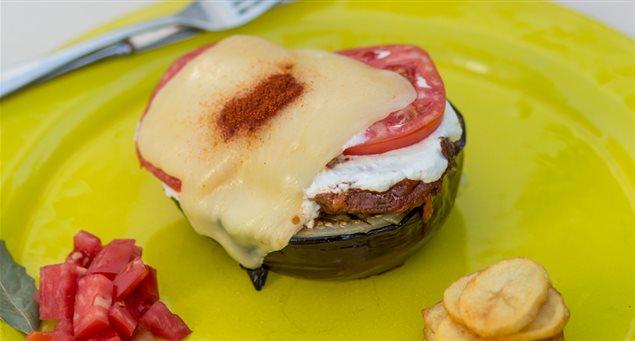 Ingredients:
4 large eggplants
8 large cubes of beef (round or shank)stewed in tomato sauce
2 large tomatoes cut in rounds
8 slices xinomyzithra cheese
8 slices Naxos gruyere (graviera) cheese
pinch of cinnamon
Slice the eggplants in half lengthwise and cut a small piece from the back of the halves so they can sit nicely on a baking tray.
Score the surface and fry both sides until soft. Remove from frying pan and strain.
Place on a baking tray, back down.
Add the pieces of beef, the xinomyzithra, the tomato rounds and then the graviera on top.
Sprinkle with a little bit of cinnamon and bake for 3 minutes at 200C until the graviera has melted. Serve with fried potatoes.