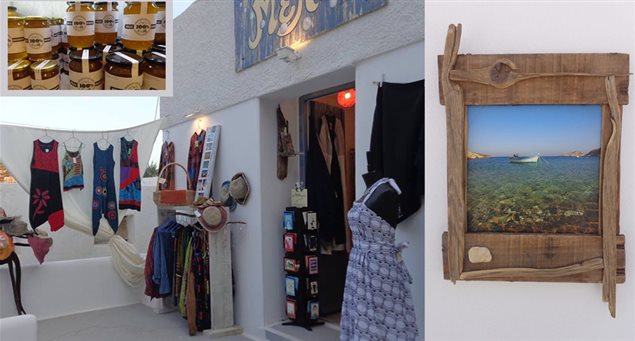 Meli (the Greek word for honey) is a sweet "beehive" of art of experimentation; a shop inspired by the island of Donoussa.
Located in the main port town, Stavros, the owners of Meli create a variety of unique useful and decorative items for the individual, home and office.  Visitors and souvenir seekers are sure to appreciate the shop's variety of handmade jewelry, clothing, accessories, ceramics, woven items (yfanta) as well as organic sweets, jams, honey, local herbs and pickled vegetables.
Choose from one-of-a-kind items such as handmade lamps (made out of paper, wire, wood, fabric); photographs printed on canvas and placed in handmade frames; hangers; mirrors; woven items and much more!
Working with a team of artisans who also create and design for the shop, Meli is based on the philosophy of providing unique, handmade, natural and tailor-made products. Meli also handles specially-designed interior renovations and restorations of old items.