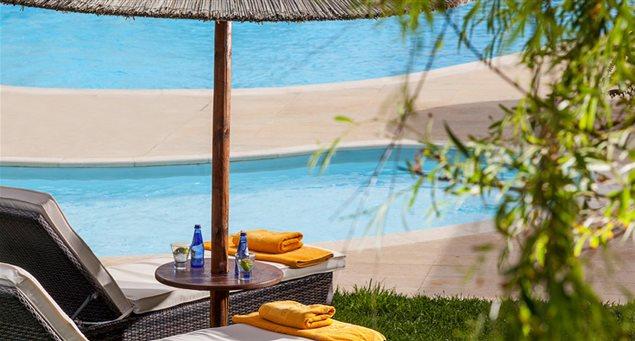 You've Chosen to Visit Naxos: Now where do you stay? This by-category listing of Naxos accommodation provides some assistance.
Choosing where to stay is often the first thing to decide once travelers have picked the destination they are going to visit.  While we cannot make specific suggestions on Naxos accommodation and where to stay, this short by-interest guide is designed to assist based on interests/preferences and types of things to do:
• When traveling to Naxos in the off-peak season: Naxos town, Agios Georgios beach, Old Town or Grotta – for their proximity to downtown, the Old Town, the port and the shops, tourism offices, restaurants, cafes and museums located in those areas.
In the peak, summer season:
• Families with children: Agios Georgios beach, Agios Prokopios beach for their Blue Flag status, proximity to downtown and facilities available; Agios Georgios' shallow waters are popular with children and those wishing to learn how to windsurf, as the beach has a lagoon, perfect for new learners.
• Sports enthusiasts, wind surfers: Agios Georgios beach; and for kite surfers, Mikri Vigla  (kite surfing is forbidden at Agios Georgios beach because of its proximity to the airport.)
• Solo travelers who enjoy socializing: Agios Prokopios, Agia Anna, Plaka, Mikri Vigla beaches for their bars by the beach, popular events and sports activities
• Solo travelers who prefer quiet: So perhaps you are finally going to write that book, that screenplay, and are seeking a place with peace and quiet. If you prefer the beach, some of the accommodations further along the coast might be quieter such as: Kastraki, Pyrgaki, Agiassos or a villa or studio in a village or the Old Town.
• For those who want to take in a museum in the morning, lunch at the port and then head out to the beach in the mid-afternoon, the best bet is to stay in Agios Georgios, Old Town, Town or Grotta, these areas offer the best of both as they are minutes away from both city and sea, swimming and sightseeing; tanning and grabbing a meze and or cocktail in between.
• Couples and honeymooners: Depending on your budget, tastes on what you want to see and do, anywhere is sure to be a romantic holiday.  For more luxury, privacy and romance the four, five star properties and villas at Agios Prokopios, Agia Anna, Plaka and Pyrgaki offer special honeymoon packages and amenities.
• Groups of friends who want to be in the center of the action: Agios Georgios, Agios Prokopios, Agia Anna, Mikri Vigla 
• On a tight budget?: Look into the 1 and 2-star Naxos accommdations in Agios Georgios, Agios Prokopios and the Camping at Plaka and Maragas.
For more information:
Naxos Hoteliers Association
www.naxos-hotels.com
email: info@naxos-hotels.com
Tel: +30 22850 26406 – 25938
Union of Owners of Rooms & Apartments Naxos
www.holidaysnaxos.com
email: info@naxos-star.com