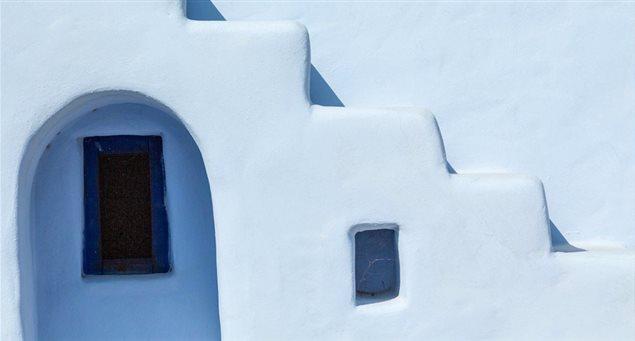 What kind of accommodations may you expect to find on Naxos and the Small Cyclades.
When it comes to places to stay on Naxos and the isles of the Small Cyclades – Iraklia, Schinoussa, Koufonissia, Donoussa – three words that best describe it: Value for Money.
Naxos: Accommodations near the sea for all budgets and tastes
From affordable Cycladic-studio and apartment complexes right on the beach, to agricultural villas in green valleys, Naxos offers the luxury of choice when it comes to choosing where to stay.
The endless stretch of coastline and several beaches dotted along it, means travellers to Naxos can expect to stay close to a beach, and not just any beach, but some of the most beautiful in Greece and the Cyclades.
And for a lot less.
The types of accommodations range from one-star to five-star and villas for those seeking a more luxurious home away from home during their stay.
Small Cyclades: Simple Elegance, Natural beauty
The islands of the Small Cyclades in general, offer simple elegance, natural beauty and of course, sparkling beaches with hues of green, turquoise, blue and then some … The same goes for the accommodations on these islands.
Iraklia
Iraklia's cubed apartment complexes with the basic necessities and amenities: balcony, kitchenette, a/c., breakfast, etc. Most of the studio apartments and rooms to let are found in Agios Georgios, the little town just above the picturesque port and adjoining sandy beach. Additional places to stay are in Livadi, the largest beach on the island just 1km from the port.
Schinousssa
On Schinoussa — like the overall vibe of the island — the accommodations are not over the top, but rather just right. On Schinoussa the majority of accommodations are located in town, in Chora. Additional rooms, studios and suites, some a bit more expensive are located near the beaches ofTsigouri, Livadi, Lioliou, Merssini and in the village settlement of Messaria.
Koufonissia
Koufonissia is one of the most popular destinations in the Small Cyclades. As a result, there are several more accommodations in which to choose. Traditional in style, the Cycladic cubed complexes, house studios, apartments, small hotels and villas.  Most of the accommodations dot the island's 2.5 km coastline road, with a few just a bit higher up on the island's parallel peripheral road.
Donoussa
Like its Small Cycladic counterparts, Donoussa offers value for money as most places to stay on the island are quite affordable when you consider the breathtaking natural surroundings. Most of the white-cubed Cycladic style apartments/studios/and rooms to let are located in Stavros, the main small town, which boasts a beautiful golden sandy beach.
Five-star not your thing? There are fabulous three and four-star hotels/bungalows/pensions that are ideal for a budget-conscious vacation. Many are boutique pensions, with charming décor and unique breakfasts; most offer kitchenettes, beach views; and transportation to and from the airport or port. When researching places to stay, feel free to call, or email the proprietors in advance to find out details based on your tastes.
Camping. Naxos has camping sites with all necessary facilities. It might not be for everyone, but the many young and several older loyal camping fans return each year for a more natural experience and certainly a more affordable one.
Trailer Road Trips. Still others take to the open highway and challenging mountainous twist and turns with a camper.