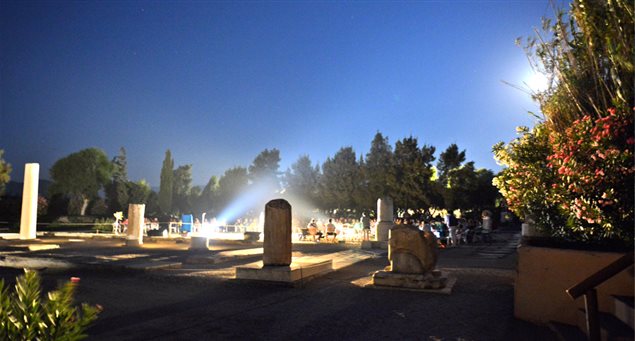 From traditional concerts inside the castle to jazz in the square, art exhibitions, cultural workshops and culinary festivals, Naxos is nonstop events all summer. Here's what to look out for:
Every summer Naxos keeps it busy with a full calendar of cultural events and happenings!
Keep note of the following venues and check with our facebook page for upcoming goings on around town.
A must-do every summer is to attend a performance at The Venetian Museum's Domus Festival(www.naxosisland.gr/VenetianMuseum). Housed in the former mansion of the medieval citadel, the program hosts a series of open-air musical concerts ranging from classical, jazz, pop, and traditional and fearing local and international artists. The view from atop the castle is truly a delight.
The Bazeos Tower (www.bazeostower.gr) just a few kilometres outside of Chora, towards the village ofChalki, hosts a series of stellar events and exhibitions, many of them part of the Naxos Festival annual roster of summer happenings. The venue is housed at the Τimios Stavros Monastery, a restored tower and monument owned by the Bazeos family.
The Municipality of Naxos and Small Cyclades Cultural Event Schedule: True to its historic cultural heritage, Naxos offers a stellar roster of events all summer long. Every summer the municipality organizes a rich and varied program of events for all ages. Check back here and on our facebook page for details.
In town and seaside: As you walk through the Old Town, downtown and beach towns, take note of local, private events that are scheduled throughout the summer.
Also: The dynamic cultural organizations of Naxos's many villages schedule several events throughout the summer.
Highlights and things to look out for include:
• Concerts at the fountain at Danako and the open-air amphitheatre in Filoti
• The annual Elaia Arts Festival, hosted in the village of Kaloxylos is a five-day event geared to exhibit the work of artists which includes art exhibitions and performances of their work including sculpture, photography, live music, theater, as well as dance performances.
• Demetria at the Temple of Demeter, Gyroulas, Sagri– Taking place annually in August, at one of Greece's most amazing archaeological sites, this event that focuses on the agricultural history and products cultivated on Naxos, has become a cultural institution.
• The annual Wine Feast during the season of the harvest, in late August-September, is complete with traditional wine press demonstrations, meze, sampling of local varieties, music and dance.
• The Fisherman's Feast, hosted annually on June 28, at the seaside village of Apollonas, begins with vespers service at Agios Ioannis (St John) church, followed by the blessing of waters and fishing boats. The celebration continues into the morning hours with lots of fish and seafood, plenty of wine and live traditional music featuring some of Naxos's leading artists. 
• The Naxos Potato Feast, held annually in August, at Kapares, Agia Anna, is another one of Naxos's most popular events. Thousands of people of all ages, both locals and visitors, flock to feast on various potato-based dishes made with Naxos potatoes, considered some of Greece's finest. Music and dance add to great time had by all at this once-of-a-kind event.
With a varied landscape of plains, mountains and sea, sporting events are becoming more and more popular on Naxos throughout the year. Summer highlights include:
 
• The annual Naxathlon triathlon, in August draws athletes from near and far who come  to compete over three stages and respective disciplines – open water swimming, cycling, and running.
• The annual wide-ranging sporting event for young and old, known as Milossia, take place in August in thevillage of Filoti. The event, open to both locals and visitors, features tournaments for various sports including basketball, volleyball, beach volleyball, soccer, long distance running contests, cycling, athletics, and trekking at Mt. Zas, the Cyclades tallest peak.
Please note: Some of the events planned for the Naxos Summer Festival also take place on the island of the Small Cyclades: Iraklia, Schinoussa, Koufonissia and Donoussa.