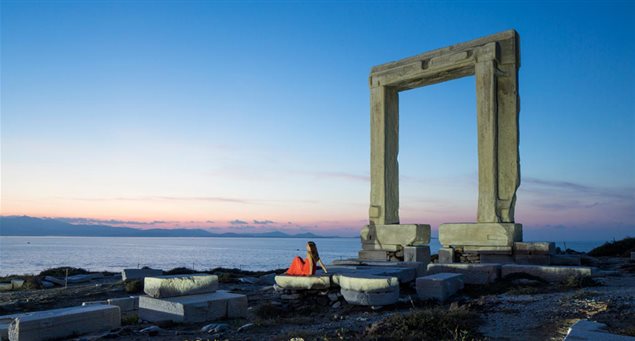 On Naxos visitors may expect to witness, up close, several of these ancient artifacts, sights, sanctuaries and temples that, like the tales that accompany them, have withstood for millennia.
Ancient Greek mythology continues to amaze young and old.
Filled with love and adventure, gods and goddesses, good guys and bad, these page-turning tales intertwine fact with fiction, myth with history, reality and imagination.
The most widely recognized mythical love story associated with the Naxos is that of Ariadne and Dionysus and the site that the story took place: the islet Palatia, where today, since the 6th century BC, stand the remnants of the Temple of Apollo and its grand entryway, Portara (large door).
It is here that, according to myth, Ariadne and King Theseus stopped to rest. And where Dionysus fell in love with Ariadne, while she slept.
According to the Naxos version of the myth …

Ariadne, princess of Crete, daughter of King Minos, assists Theseus, son of the King of Athens, kill the King Minos' beast Minotaur (half bull, half man) later escaping with Theseus.  On their way back to Athens, they stop on Naxos. Ariadne falls asleep on the beach at islet of Palatia, while Theseus sleeps on board the ship with his mates.  Meanwhile, Dionysos, god of wine and merriment, a resident of the island (he is credited with blessing the land's fertile vineyards) sees the beautiful Ariadne and visits Theseus in a dream forcing him to leave Ariadne.  When she awakes, realizing she has been abandoned by her lover, marries Dionysus who leads her away to Mt. Drios –present-day Koronos- on Naxos, and from there to Mt. Olympus, "official" residence of the gods.
Year after year, and for hundreds of years, the birthplace of these characters, the places they frequented and the ancient monuments built in their honor continue to inspire travelers and artists alike.
In the early 20th century, classical composer Richard Strauss inspired by the story of Ariadne on Naxos, completed the work, Ariadne auf Naxos. 
Artifacts and antiquities, such as vases, sculptures, urns and friezes depicting the heroine and god, may be viewed at archaeological museums throughout Greece and, more specifically, at the archaeological museums of Naxos, Crete and Thessaloniki.
In addition, there are several paintings exhibited and on view at museums around the world.
Here is a list of a few:
Ariadne and Dionysus exhibited in the art world around the world:
Artist: Giorgio de Chirico (Italian, Greek-born, 1888-1978)
Painting/Title: Ariadne (1913)
On view at: The Metropolitan Museum of Art (New York, USA)
Artist: Eugene Delacroix (French, 1798-1863)
Painting/Title: Autumn, Bacchus and Ariadne (1856-1863)
On view at: São Paulo Museum of Art, São Paulo, Brazil
Artist: Asher B. Durand (American, 1796–1886)
Work/Painting/Title: Ariadne (ca. 1831–35)
On view at: The Metropolitan Museum of Art (New York, USA)
Artist: John Vanderlyn (American, 1775-1852)
Work/Painting/Title: Ariadne Asleep on the Island of Naxos (1809-14)
On view at: Pennsylvania Academy of the Fine Arts, (Philadelphia, USA)
Artist: Gustavus Hesselius (Swiss, 1682-1755)
Work/Painting/Title: Bacchus and Ariadne (1725)
On view at: The Detroit Institute of the Arts (Detroit, Mich., USA)
Artist: Sebastiano Ricci (Italian, 1659-1734)
Work/Painting/Title: Bacchus and Ariadne (probably 1700-10)
On view at: The National Gallery, London
Artist: Charles-Joseph Natoire (French, 1700-1777)
Work/Painting/Title: Bacchus and Ariadne (1763-1774)
On view at: Hermitage Museum, St. Petersburg
Artist: Angelica Kauffmann (Swiss, 1741 – 1807)
Work/Painting/Title: Ariadne Abandoned by Theseus (1774)
On View at: The Museum of Fine Arts, Houston
Artist: Angelica Kauffmann (Swiss, 1741 – 1807)
Work/Painting/Title: Bacchus Discovering the Sleeping Ariadne on Naxos (1764)
On view at: Vorarlberg Museum, Bregenz (formerly Vorarlberger Landesmuseum, VLM)
Artist: Alessandro Turchi (1578-1649)
Work/Painting/Title: Painting Bacchus and Ariadne (early 1630s)
On view at: Hermitage Museum, St. Petersburg
Artist: Titian (Italian, 1488-1576)
Work/Painting/Title: Bacchus and Ariadne (1520-3)
On view at: The National Gallery, London