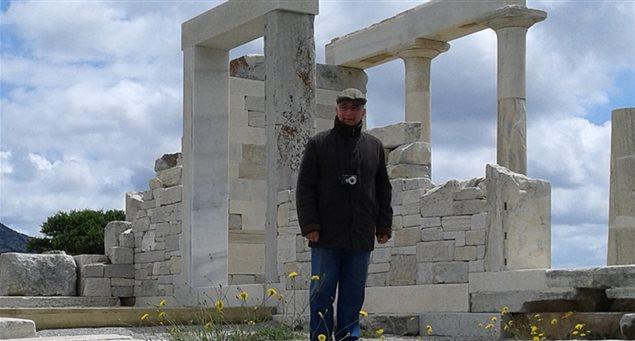 Vassilios Lambrinoudakis is emeritus professor of classical archeology at the University of Athens and honorary citizen of Naxos.  For over 50 years, he has worked on some of Naxos's and Greece's most significant excavations, including the Temple of Demeter at Gyroulas, Sagri; the prehistoric Mycenaean city of Grotta; the island's ancient aqueduct; the Temple of Dionysus at Iria, and others.
First visiting the island as a graduate student, under the tutelage of archaeologist Nicholaos Kondoleon in the early 1960s, Vassilios Lambrinoudakis undertook the task of excavations on the island in 1975 (after the unfortunate passing of Kondoleon).
Today, he continues to work for Naxos, collaborating with the Archaeological Service and the Municipality to prepare for the restoration of the 4th century Chimarros Tower.
Situated in a marvelous landscape, southeast of the village of Filoti, the tower is considered a fine example of Hellenistic-era rural estates architecture.
We met with him recently at the archaeological site of the Temple of Demeter at Gyroulas, Sagri, and asked him to share with us five of his favorite things on Naxos to which he answered, "On Naxos, I love not five, but one thousand and five things…"
Here we present five:
# 1 The Natural Environment
"I love the natural environment and changing landscape of the island, from its green valleys, small meadows and restless hills, to its beaches. The best beaches of the Aegean, the waters boast an incredible color of turquoise; a result from the reflection of the sand that contains hints of hues from grains of the island's white marble and brown granodiorite that are mixed in."
# 2 The People
"I love the people of the island for their simplicity, kindness, natural politeness, optimism and vitality (especially when the dance); qualities that I am fortunate to have found and enjoy, in abundance, in my wife who is from Naxos."


# 3 The Cultural History of the Island

"I especially appreciate the cultural history of the island as seen through the eyes of the visitor through its numerous monuments dating back to the 4th millennium BC until today, many of these ancient temples, towers, castles, churches and traditional buildings -scattered throughout the island — have contributed to development of civilization."
# 4 The Traditional Products of Northern Naxos
"I particularly like the cheese and wine found in northern Naxos."


# 5 Gazing at the Endless Sea
"I love gazing at the vast endless sea —  whether its calm or stormy — from the vantage point of Stavros, located on northern cape of the island."