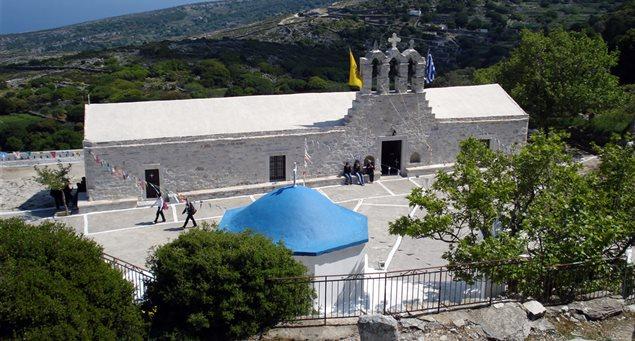 In 1836, a very old icon of Panagia (Virgin Mary) was found at Tholos position, in the area of Argokili on Naxos. It was thought to have been there at least since the period of iconoclasm some 1,000 years earlier –when icons were purged.
It was deposited at the metropolitan church of Paros and Naxos until 1841 when it was moved to an unknown place and its traces were lost. It was found again in Chora, Naxos in 1930 among the icons of a local lady –thanks, it is claimed, to a vision by a girl pupil- and was returned to Argokili.
The icon, thought to be the work of Luke the Evangelist, is considered miraculous due to its history. It measures 5×5.2cm and is embossed with wax and mastic resin, depicting on one side the Annunciation of the Virgin and on the other the Baptism of Jesus.
Today it is kept at the monastery of Panagia Argokiliotissa, which spreads over an area of about 2.5 hectares and includes an old church dating to 1851, a larger new church which is a landmark in the area and a chapel dedicated to the holy water trickling out of the rock opposite the spot where the icon was found.
There are also 30 cells for the accommodation of some of the faithful who flock from all over Naxos in the thousands every year on the Day of Zoodochos Pigi ("The Fountain of Eternal Life"), five days after Easter, to pay their respects.
| | | | |
| --- | --- | --- | --- |
|   | Daily |   | 09:00 – 14:00 |
|   | Argokili |   | 22850 51220 |
|   | Free | | |
| | |
| --- | --- |
| Directions for access | The church is reached via 3km of asphalt road starting shortly after the crossroads for Lionas. |
| Accessibility for wheelchairs | Accessible for wheelchairs. |