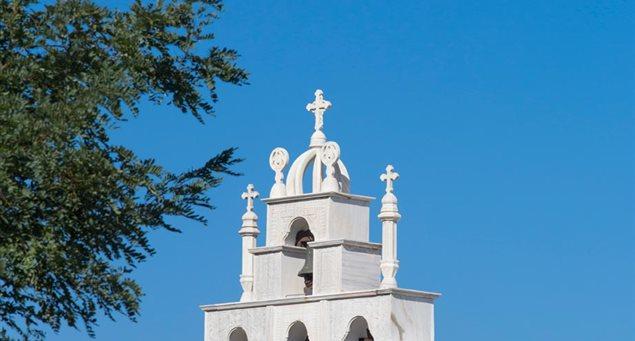 Panagia (Virgin Mary) Aperathitissa church on Naxos, named after the village, is located on its main street.
Built in the 18th century, it has an imposing presence. The church's marble bell tower, altar screen, and icons inside are all works of intricate detail. Legend has it that an icon depicting the Virgin Mary appeared at the nearby Azalas beach during Byzantine times.
It was found there by a local shepherd who carried it back to the village. According to the legend, the icon lifted itself twice from the shepherd's shoulders to descend on spots chosen by Virgin Mary.
Two churches –Pythadariotissa and Stavros Rachis- were subsequently built at these respective locations. Once back at the village, the shepherd placed the icon inside its original church, Protothroni, located where the primary school nowadays stands.
The following day, the icon was found to have moved to the spot where the Panagia church stands today. The incident was interpreted as being a divine message, making the construction of a church there imperative.
These days, its stone-paved yard often hosts local traditional celebrations, while the church stages a major feast of its own every August 15, marking the Assumption of the Virgin. The Natural History Museum is housed at the church.
| | |
| --- | --- |
| Directions for access | The church is within walking distance from Apiranthos main street. |
| Accessibility for wheelchairs | Accessible for wheelchairs. |