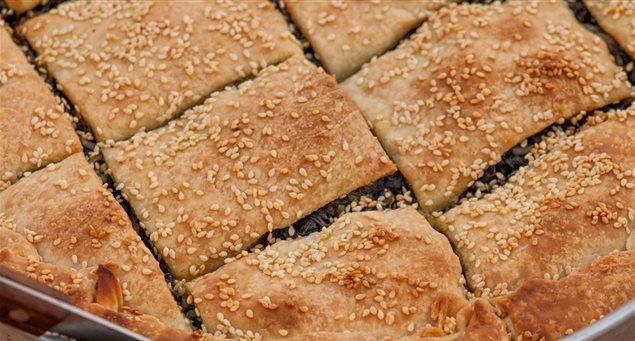 Ingredients
For the stuffing:
2 kilos chard ( or wild greens)
½ kilo rice
1 bunch parsley
1 bunch fennel leaves
1 bunch spearmint
1 large onion
1 cup olive oil
½ cup water
1 tsp salt
pepper
For the pastry:
½ kilo flour
½ cup olive oil
salt
dash of vinegar
water

Directions
Heat the olive oil in a saucepan and add the finely chopped onion, wild greens and herbs.
Cook until soft and add the water. When the greens come to the boil, add the rice, salt and pepper, and stir well. Cook until the liquid is absorbed and remove from heat.
Next, prepare the pastry.
In a large bowl, pour the flour and make a small well in the middle into which you pour the oil, vinegar and salt. Start kneading the pastry, adding water slowly as needed until it become firm but not flaky.
Let the pastry rest for around 2 hours and then separate into two equal parts.
On a flat, well-floured surface, roll out the pastry until about 1 cm thick. Grease a baking tray and add the first sheet of pastry. Spread the mixture of greens and rice evenly onto it. Cover with the second sheet of pastry, folding the edges inwards and pinching the two sheets of pastry together. Brush the surface of the pie with some olive oil and cook in a medium oven for around 45 minutes until golden-brown.