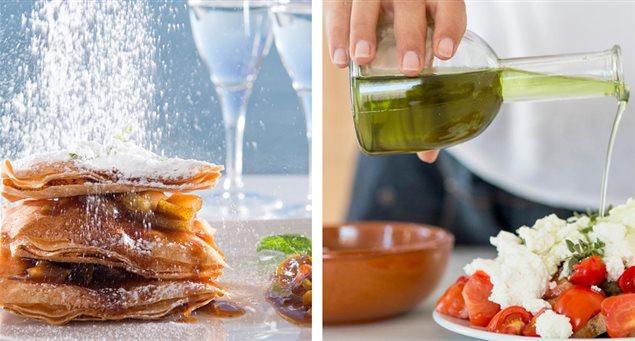 Ahhh the food of Naxos and the Small Cyclades: part culinary, part culture, and spoonfuls of tradition! Visit Naxos and the Small Cyclades (Iraklia, Schinoussa, Koufonissia and Donoussa) and whet your palate with the islands' variety of tastes and dining venues, traditional or contemporary, organic and gourmet.
Each island has products cultivated, served and sold by local farmers and restaurateurs.  Honey from beekeepers; cheese from the cheese makers; liqueur direct from the distillery and local wine ripe from the barrel.
Seek these local specialties and treat your appetite with food for thought as well as for taste.
Naxos by taste:
As one of Greece's largest islands, Naxos is a unique gastronomic destination.
Blessed with a fertile land of rich vegetation, it boasts a vibrant industry of agriculture and rich culinary heritage with a vast array of indigenous-to-the region ingredients, must-try products and delicious plates.
Naxos is especially known for its cheese and dairy products, potatoes (considered to be amongst Greece's best), meat, fresh fish, olive oil, honey, fresh fruits and vegetables.
Special to Naxos is the liqueur made from the leaves of the citron fruit, boutique local wines and ouzo.
A visit to a traditional olive making press, cheese factory and citron distillery is a must for the foodie traveller.
The Food of the Small Cyclades:
The islands of the Small Cyclades share many of the Cycladic specialties in addition to each having their own exceptional signature products and dishes.  The dining venues here tend to be more traditional, with a few more options on Koufonissia and fewer traditional tavernas and hip café/bars in the more remote Iraklia, Schinoussa and Donoussa. All have great local cheeses, honey and fava (chick pea purée) as well as versions of the traditional pasteli(sesame sweet) and patatato (traditional meal made with goat and potatoes).
Wondering what to eat where? Here is a quick taster's guide.
When in Naxos: 
Cheese: Sweet, salty, spicy, soft or hard. Naxos boasts a vibrant cheese making industry and produces several varieties made from goat, sheep and cow's milk. Try the mizithra, the aged arseniko, xinotyri, kefalotyri and the renowned Naxos Gruyère known as graviera.
Potatoes: considered amongst Greece's best
Spoon Sweets: desserts made with sweet preserves
Citron: the locally produced liqueur made from the leaves of the citron tree
Local wine: As the home of Dionysus, Naxians take their wine heritage seriously, with several making their own wine. Ask to try the local variety.
When in Iraklia:
Thyme honey; fava (split chick pea purée); xinomyzithra (a soft and dry cheese produced from goat's milk by local farmers in June and July. It is served in local restaurants where it is mixed with Greek salad instead of feta); Pittaridia (handmade pasta that most locals prefer to boil with goat's milk and a little salt (soupy), while others cook them in fresh tomato sauce and sprinkle with local hard goat's cheese); Pasteli (sesame sweets); Melitini (Easter sweet made with soft cheese)
When in Schinoussa:
(award-winning) Fava (split chick pea purée); Cowpeas; Cucumbers; Rakomelo (raki spirit with honey); Honey; Patatato (traditional goat and potatoes dish); Xerotigana (or diples, fried dumplings with honey)
When in Koufonissia:
Fresh fish; Fava (split chick pea purée); Loukoumathes (fried dough pastry balls dipped in honey); Xerotigana (or diples, a sweet made of flour, sesame seeds and honey); Kokkoras krasatos(rooster in red wine sauce served with rice soup)
When in Donoussa:
Patatato (goat with potatoes); The traditional dish is usually served at weddings, baptisms, and traditional feasts (panygiri).