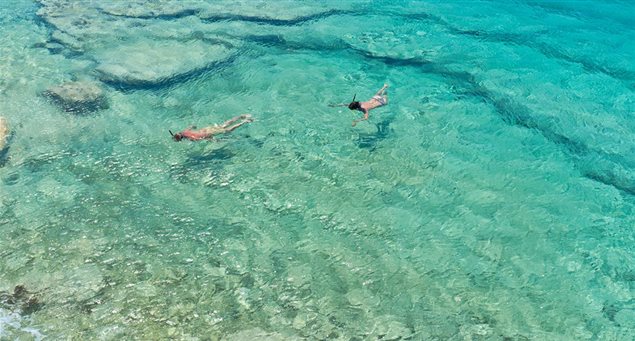 There is no doubt about it. Koufonissia – actually two islands, the inhabited Pano (upper) Koufonissi and uninhabited, Kato (lower) Koufonissi — has some of the Aegean's best beaches. One of the tiniest of the Cycladic islands – just 3.5 km (2.2 miles) – Pano Koufonissi boasts a beach terrain that never disappoints.
If white sandy beaches and crystal clear turquoise waters – everywhere you look – is your idea of heaven on earth, then head to Koufonissia and get ready to indulge!
The beaches are sandy, in close proximity and most, easy to get to by walking, bicycling or taking a water taxi or passenger fishing boat.
Once a secret gem of the Aegean, it has become a favorite amongst those who appreciate the exotic tropical-like beaches, seaside tavernas and boheme-style nightlife.
In the distance are the uninhabited Kato Koufonissi and Keros. The former, accessible only by passenger fishing boat, offers additional beaches to explore, while the historically-significant Keros, site of continuous archaeological excavations, is off-limits to visitors.
Basic Info:
Access from Naxos*:
[*Please note: schedules/timetables are subject to change. Please contact your travel agent and/or the airline/sea transport line for the latest schedule information. Peak season usually begins from the Greek Orthodox Easter holiday, late Spring and continues to early Fall – mid October]Year round (from Naxos)
Daily local ferry, Express Skopelitis (approximately 2.5 hours)- except Sundays
Ferry line 3x per week (approximately 2 hours)
In the peak season: there is a hydrofoil 6x per week (approximately 35 minutes)
Location: Southeast of Naxos, west of Amorgos
Size: Area of 3.5 km (2.2 miles)
Population: Approximately 400 (permanent residents)
Number of Beaches Accessible by Foot/Water Taxi: 7-10, with many coves in between
Claim to fame: Turquoise waters and white sands
Need to know: No cars are allowed on the island; getting around is by walking or bicycling
Don't miss: Pori Beach and Pisina – a natural "pool"