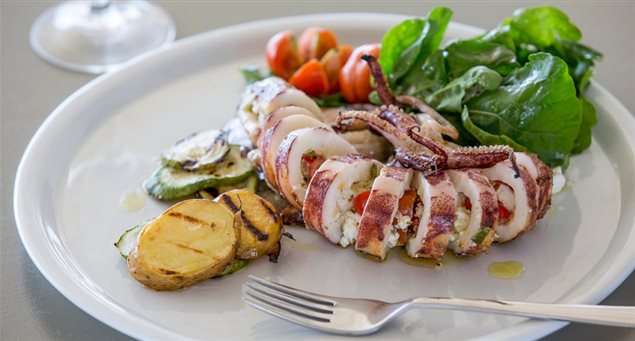 For such a small island, Schinoussa is just overflowing with places to eat!
In fact, the locals pride themselves on their cornucopia of dining choices.
Predominantly based on the philosophy of using local products cultivated on local farms, visitors can expect to find juicy tomatoes, sweet fruit, and, of course, the fabulous Schinoussan fava … and that's just the beginning …
The plethora of dining choices centers around Chora, or Panagia, the center of the island with additional venues scattered around other parts of the island, in the village settlements, and close to beaches.
The port at Merssini greets you first with fish taverns Nikolas and Merssini open from April to September.
The food action centers in Chora: It begins at Ailouros Café Bar, a good choice for breakfast and an ideal place to enjoy a snack and a cocktail watching the sunset. It might be said that, 8 Adelfia Restaurant,open in the peak season and run by a very large family, practically "brings their farm to their veranda restaurant and ground floor mini market," Eirini's (open year round).  Both feature fresh fruit, vegetables, homemade cheese and the local, delicious fava. Margarita Estiatorio, with a great view of Tsigouri beach, serves traditional fare for lunch and dinner, including a selection of seafood plates prepared with fish caught by fisherman-owner Fanis himself. The oldest traditional coffee place on the island, Kafeneio,is small but carries a long history as is evident by its stopped-in-time decor. Kafeneio is a must-stop for its coffee, handmade sweets and for watching the people who frequent it. Directly across is Emporio Fournos Mini Market, a bakery with fresh baked goods. Across the way and open year round, is Stou Peri Snack Bar,an all-day café bar with drinks, meze and snack menu. Deli Café Estiatorio is a double-decker venue with the downstairs filled to the brim with coffees, homemade sweets (profiterol, pies, tarts) and a wide choice of juices, drinks and cocktails. Upstairs the restaurant serves traditional fare with a gourmet twist and great views of Tsigouri beach and the islands Ios and Iraklia. Xara (Happy) Café is another memorable place. "Everybody likes Xara." This open all day café bar serving small snacks, fruit salads, crepes, waffles, and morning coffee attracts the young people and not only. In the evening, it's a great for people watching while sipping a glass of wine.  Kyra Pothiti Estiatorio, one of the oldest traditional tavernas on the island, graced with a vineyard-draped veranda and pretty table-lined alleyway, features traditional dishes – such as stuffed squash and grilled seafood — with a touch of art. Towards the end of Chora, is Meltemi Estiatorio. Serving traditional Greek favorites, such as stuffed peppers, tomatoes, aubergines known as yemista; it also offers fantastic views, east, towards the island of Amorgos. Meat and souvlaki lovers check out Veggera Estiatorio open year round, while after Easter, To Steki ths Mourousas Psistaria heats up their grill adding to the confusion of what place to choose to eat at first! Leaving Chora, at the very beginning of the road towards Messaria, Agnantema taverna serves grilled meat and traditional Greek meals.

Seaside Dining

At Livadi beach: Family-run Livadi Estiatorio, serves traditional dishes and features a great veranda view.
At Almyro beach: Anatoli Café Estiatorio, an all-day bar café, about ten minutes walking distance from the beach, offers shade, coffee and refreshing drinks in the am, cocktails in the eve, and delivery to your sun bed and umbrella in between.
At Tsigouri beach: Grispos Estiatorio offers contemporary traditional Greek fare and stunning views of the beach and islands of Santorini and Iraklia. Tsigouri Beach Bar cools its fans with coffees, ice cream, milkshakes, food and snacks all day, into the evening, and, during its fun beach parties.
At Lioliou beach: Tis Akathis Restaurant is popular for her dishes that feature fresh ingredients from the adjoining garden and views of the beach.
Village Dining

At Messaria: To Petrino ths Messarias Psistaria, is a popular grill house featuring a charming and popular made-of-stone (petrino) veranda. Newcomer Xarama Estiatorio serves Greek food for lunch and dinner.