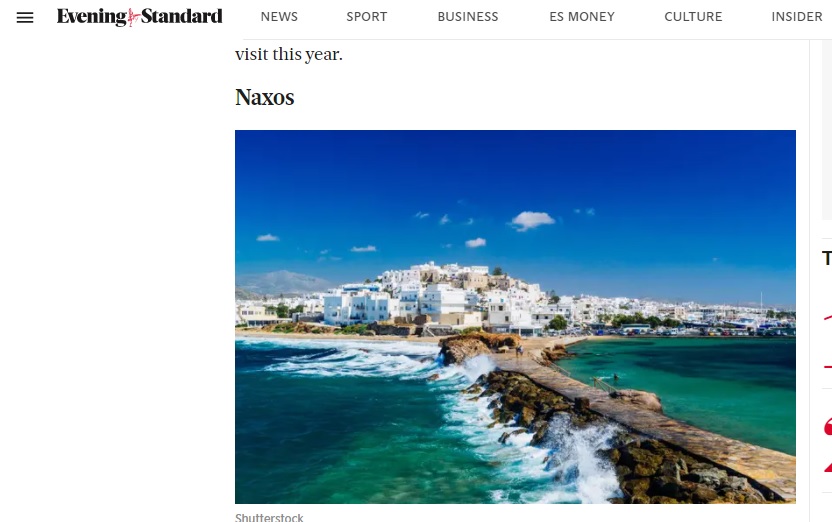 In view of the new tourist season, Naxos and Small Cyclades top the rankings on international travel and news media, as the result of press trips and cooperation projects of the Municipality with the GNTO Offices in Scandinavia and the UK.
The mountainous landscape of the largest island of the Cyclades, its enchanting nature, centuries-old churches, the imposing Castle and the traditional village life are the reasons why Naxos recently topped the list of the best Greek island for Danish travelers according to the most popular magazine of Denmark, Vagabond https://vagabond.info/artikler/europa/gr%C3%A6kenland/gr%C3%A6kenland-byder-verden-velkommen/.
In the first places of the ranking, we find Koufinissia, which charm visitors with their emerald waters and impressive caves.
In the same spirit, the British newspaper Evening Standard sent out a positive message for the new season by placing Naxos as the number 1 island in the list of the 20 most impressive Greek islands. The relevant article keeps on receiving visits and "clicks" by the British travel audience https://www.standard.co.uk/escapist/travel/best-greek-islands-to-visit-a3869661.html. White sandy beaches and picturesque alleys of the Chora of Naxos charmed the journalist, who is now in love with the destination and looking forward to her next visit to Naxos!
The gastronomic tradition of Naxos and its evolution were highlighted in a special list by the respected National Geographic of the UK. https://www.nationalgeographic.co.uk/travel/2019/10/nine-greek-islands-for-globetrotting-gastronomes . According to this impressive article, Naxos is rightly number two, after Crete, among the top 9 gastronomic destinations of Greece for summer 2021. As mentioned in this list, unique cheese types, high quality olive oil and pure raw materials offer Naxos island self-sufficiency and gastronomic culture.