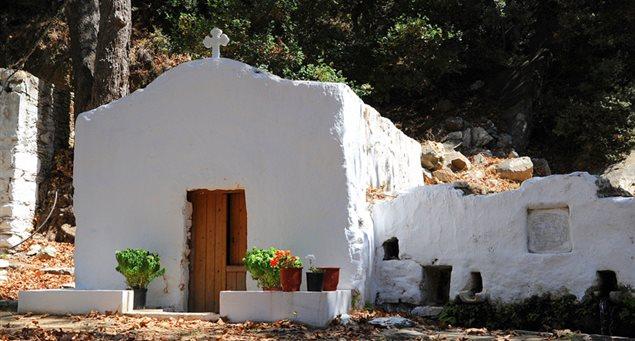 The monastery of Agia is built on an idyllic site at an altitude of 220m, just 6km away from the village of Apollonas on Naxos.
The main church of the monastery is a vaulted basilica with three aisles, separated by pillar-supported arcades –a usual style in early Byzantine religious monuments. In the forecourt of the monastery there is a spring embraced by enormous age-long plane trees.
The monastery was conquered by the Franks in the early 13th century, but it was given back to the Orthodox Church in 1559, when the Turks were dominating the Aegean Sea.
Every year on August 14 –the eve of the feast of the Holy Mother- the monastery holds vespers and offers  meals and local wine in its courtyard.
| | | | |
| --- | --- | --- | --- |
| | Visit upon prior communication &open to the public on 8/14&15 | | Koronida (Komiaki) |
| | 22850 63248, 6974 474453 | | Free |
Directions for access
Access by car via a rural road connected to the main road network Chora – Eggares – Apollonas.
There is also a pathway leading to the monastery, through a lush environment.
Accessibility for wheelchairs
Accessible to people with mobility limitations.