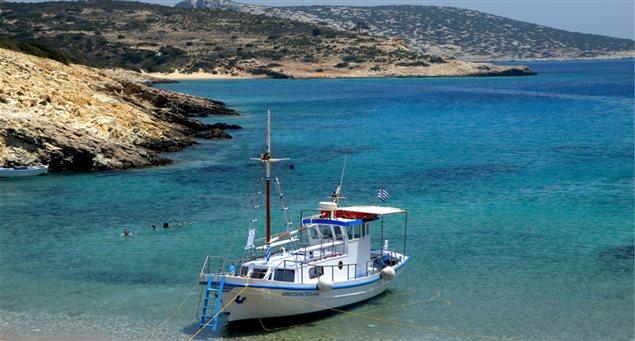 Unique to the Greek isles are the network of local ferry and passenger boats, sea "buses" or colorful and traditional fishing (caique) motorboats known as kaiki, lantzia or water/sea taxis/buses.  Some larger than others, they offer the opportunity for guests to visit remote and spectacular beaches.
Of course, it is best to check with the local travel agent or concierge/reception to confirm departure/pickup dates, times and weather conditions. And note, that timetables and local itineraries are always subject to what the weather permits.
Donoussa's Magissa sea taxi (capacity approximately 40 passengers) sets sail for its inlets and beaches daily at 10:30 in the morning from the port at Stavros with an afternoon pick up.
On special request and weather permitting, captain Ilia may provide guests with a tour around the island and/or a special trip (s) to two must-see sea attractions: The 20metre high sea cave, Spilia tou Tichou (Wall cave), with impressive stalactites in the area of Aspros Kavos on the northwest part of the island, and/or the coral-adorned Seal Cave (Fokospilia), refuge of the Mediterranean seal (monachus monachus), at the steep Cape Moschonas (Cavo Moschona), on the island's eastern coast.