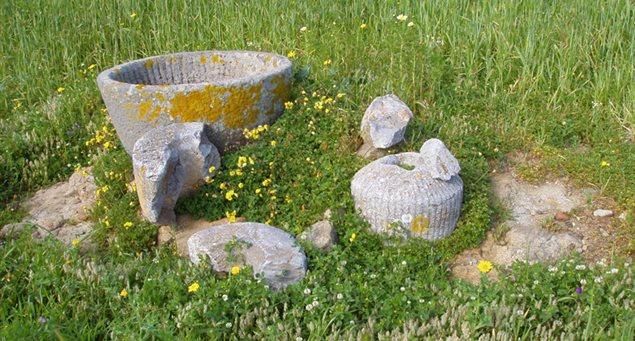 A very pleasant walk on an old footpath near Galini, leading to some ancient founts in the Messonissi area, takes you back to Naxos' Byzantine past.
The footpath was part of a trail once used by the monks and began where the road connecting Chora with Galini and Eggares starts today.
Initially following a southeastern orientation, it led to the cave of Agios Ioannis Theologos (Theologaki) –a spot with a panoramic view of Chora on Naxos.
Then, turning north, it went past Xydi summit amidst a plutonium-rich rocky area and old cultivated terraces, before reaching the Messonissi basin where three ancient founts are located.
The first fount, with a Byzantine-era reservoir, is built next to a galley crossing the area, while the second –also accompanied by a reservoir- is further down, adjacent to the footpath.
The founts, which gush water throughout the year, served as a refreshing stop for walkers and supplied the water for the irrigation of the surrounding farms. The third fount is still further down the trail.
Next to the reservoir are signs of an ancient workshop for grounding nuts –- unique on Naxos, ancient marble basins and the inscription "ΑΘΗΝΑΙΣ" –- engraved on a marble plaque and possibly indicating a place of worship.
The beautiful trail continues on to Galini, the Church of Panagia (Virgin Mary) Attaliotissa, Ypsilotera monastery and, via the Eggares valley, ends at Faneromeni monastery. It is accessible at all stages.
| | |
| --- | --- |
| Directions for access | The Messonissi area, about 500m from Galini, is accessible only on foot.  |