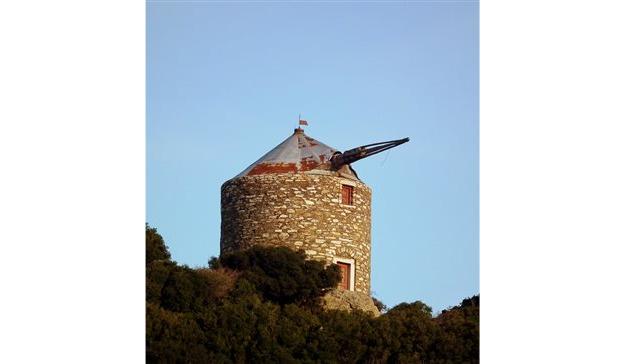 Three picturesque windmills on Naxos, on a small hill overlooking the entrance to the village, are the Tripodes landmark.
Built in the 19th century, together with the windmill of Skarkos, at the exit of the village on the way to Plaka, and the ruined windmills on Stroumpoulas hill, they are a distinct form of Cycladic architecture and are intimately related to the history and economic development of the village.
They are cylindrical, two-storey constructions that harnessed wind power to mill wheat and produce flour in the pre-industrial age.
They comprised two floors connected with an internal, wooden staircase. The axis, the motion transmission mechanism and the millstones were on the top floor, while the ground floor served as a storage area.
The wings, equipped with canvas, measured more than 5m in length and one-fifth of that in width. The millers were quaint figures in their day, sung in folk poetry.
The spot offers superb views of the sea and the island of Paros, and is ideal for watching sunsets.
Directions for access

Signposts at the entrance and around the village direct you to windmill hill. For Skarkos, take a right from the main Chora-Vivlos road towards Plaka (signposted) and keep on for about 500m. The mill is a low hilltop on the right.

Accessibility for wheelchairs

Inaccessible for wheelchairs

.