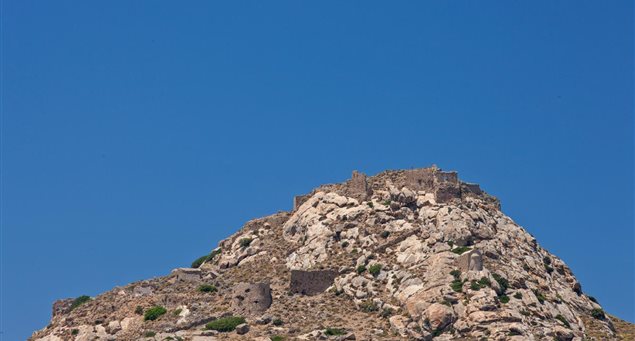 A footpath starting at Tsikalario leads to Apano Kastro, one of Naxos's most impressive monuments. Built on a rocky hilltop, with superb views towards the sea, it was an important fortified position from antiquity to Venetian times.
The remains of the huge wall, with the big, rectangular stone blocks, obviously belong to the classical era, while the fort that can be seen today was built by the Venetians around the middle of the 13th century.
They named it Apano ("Upper") to distinguish it from Chora's Kato ("Lower") Kastro.
There were two lines of fortifications.
The longest was around the base of the hill where remains of the wall can be seen today, along with a horseshoe-shaped bastion of more recent times for firearms.
During times of enemy raids the people living outside the walls would take refuge behind this first line of defense.
This section was normally uninhabited, and this is the reason why the only ruins found there today are those of several churches.
The second line of fortifications was on the steep approaches below the top of the hill, where the Dukes' Castle was. The remains of a palace, a church and two cisterns carved into the rock are still visible.
| | |
| --- | --- |
| Directions for access | Access is gained via a footpath beginning at Tsikalario, or via a dirt road reaching a point east of Pano Potamia, and then on foot. |